Climbing Areas Archives: The Temple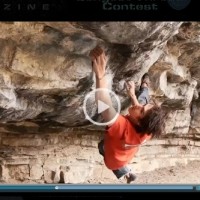 Deadpoint Magazine has launched a new, high quality online video channel dubbed DPM HDTV.
Andre Di Felice has made the 4th ascent of Timy Fairfield's V12 into V11 link up called The Saadhu (V14) at The Temple, NM.  The other repeats came from Jon Cardwell and Daniel Woods.  This is Di Felice's 2nd V14, the other being the endurance link up Aslan in RMNP.
I thought it would be interesting to compile a list of hard (V14 and up) boulder problems that have not been repeated in North America. Thanks to everyone for help in compiling these problems (Most of these grades are pure speculation from outside observers): Nuclear War – V14 – Matt Bosley – Harriman State Park, […]
Read full story
·
Comments { 211 }
·
Climbers { 69 }
Adam Taylor, Alex Megos, Alex Puccio, Andre Di Felice, Anthony Chertudi, Ashima Shiraishi, Bernd Zangerl, Brian Antheunisse, Brian Boyko, Brian Hedrick, Brion Voges, Carlo Traversi, Chris Schulte, Chris Sharma, Chris Webb Parsons, Christophe Maschelein, Cory French, Dan Beall, Daniel Woods, Dave Graham, Dave Wetmore, Elan Jonas Mcrae, Ethan Pringle, Giovanni Traversi, Gregor Peirce, Guillaume Glairon-Mondet, Isaac Caldiero, James Kassay, James Litz, Jason Kehl, Jesse Warren, Jim Merli, Johnny Goicoechea, Jon Cardwell, Jorg Verhoeven, Josh Muller, Kevin Jorgeson, Kevin Kuckovich, Luke Parady, Mark Heal, Matt Bosley, Matt Fultz, Matt Hong, Matt Wilder, Max Zolotukhin, Michael O'Rourke, Mirko Caballero, Nalle Hukkataival, Ned Feehally, Niccolò Ceria, Nick Duttle, Paul Robinson, Phil Schaal, Sachi Amma, Sam Davis, Sam Edwards, Sean McColl, Shawn Diamond, Simon Parton, Taylor McNeil, Thomas Betterton, Tim Clifford, Tim Doyle, Tony Lamiche, Toru Nakajima, Toshi Takeuchi, Ty Landman, Yves Gravelle, Zach Lerner
·
Areas { 23 }
Arkansas, Boulder Canyon, Bradley, Buttermilks, Clear Creek Canyon, Eldorado Canyon, Guanella Pass, Gunks, Happy Boulders, Hueco Tanks, Lilly Boulders, Little Cottonwood Canyon, Moe's Valley, Mt. Evans, Nicky's Boulders, RMNP, Rocktown, Rumney, Secret Garden, Squamish, Sylvan Lake, The Temple, Wild Basin