In addition to launching their 4th issue, the Deadpoint Magazine has added a cool new feature to their website called DPM HDTV.  The name is pretty self explanatory:  they are going to start posting videos online for your enjoyment in a nice, high quality format.  For the initial launch they have two videos that are not only better to look at from a resolution standpoint, they actually appear to have been shot by quasi-professionals.
One video features Andre Di Felice and Jon Cardwell climbing 5.14 and bouldering V14 near Albuquerque, NM, and the other shows Jimmy Webb crushing several double digit problems on the impeccable sandstone of the southeast.
Shrunken screenshot of DPM HDTV.  The fact that I had to shrink the picture to fit on this page is a good thing…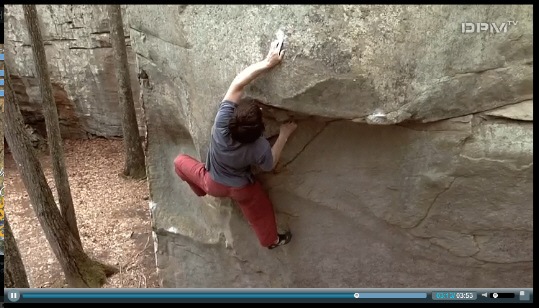 With the promise of footage of Paul Robinson's repeat of Psychedelic also coming soon to DPM HDTV I would say they are off to a pretty good start.  Let's hope they can keep it up!