News…
…and Notes…
Frame from Western Gold of Tom Moulin on the highball Ariana (V6) in Red Rocks, NV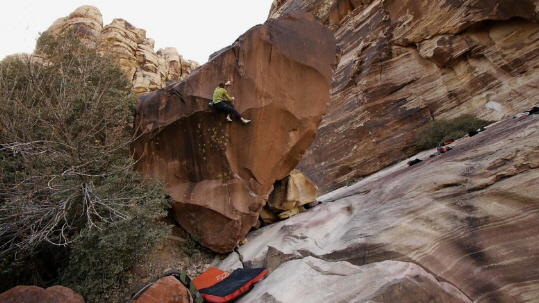 The Company [Black Diamond] also disclosed that it is targeting the fall of 2013 as a possible launch time for an outdoor technical apparel brand, expressing the view that both apparel and footwear represent significant long term opportunities to extend the Black Diamond brand. The Company believes that these categories can have a material impact on the Companys growth over the next decade and beyond.

[BD CEO] Mr. Metcalf commented, The next few years hold an extraordinary opportunity for our brand and the next logical step is apparel. We believe the market demand for Black Diamond apparel is substantial and, if executed well, that this category can become equal to or larger than the balance of our business within 5 years of launch.
This ad from Organic, Pusher and Revolution that ran in the most recent Deadpoint Magazine has a lot of people talking..