Dave MacLeod, best known for his difficult headpoints in Britain, recently free soloed Darwin Dixit (5.14b) in Margalef, Spain.  Unless someone can think of something harder, this is probably the hardest free solo (not a highball boulder) ever done.  I couldn't find much information on the route as far as how tall it is or anything like that, (it looks sort of short in the pictures) but it seems safe to take his word for it.  The ascent was filmed for an upcoming movie project he is working on with is wife Claire.  You can read her thoughts on what it was like to film the ascent by checking out her blog.
Dave MacLeod free soloing Darwin Dixit (5.14b) in Spain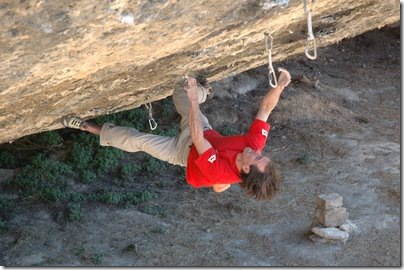 Photo:  Claire MacLeod blog
MacLeod had this to say about the inevitable questions and criticisms people will have over the publicizing of such an ascent:
I feel that everyone should be encouraged to find and extend their limits. I agreed and was inspired by Alex Huber when he talked about finding his limits in soloing after his free solo of Kommunist 8b+ a couple of years ago. But anyone should think carefully about why they do something as potentially dangerous as soloing a hard rock climb. Your motivation should always be to extend your own limits in this arena, never to compare against anyone else's. And you should use your mind to extend this limit by knowing yourself and your ability before you leave the ground, never by letting your ego get you into a situation where you must fight for your life! Free soloing must be done perfectly or not at all – you owe this to the people who care about you. But this area of great understanding of one's own mind and body forms the attraction of soloing. And if you know you have that understanding, then soloing can be rewarding on a deep level. If you ever find yourself at the foot of a solo climb, wondering if you do have that understanding, you almost certainly don't. Solo climbing is about really knowing, and when you have this feeling it will stand out in your mind so much that you will not have to wonder whether it's real or not.

Can soloing be safe? Yes. Is it always safe? No! Even for the few who can be in complete control of their body and mind on a solo, they cannot be in control of the rock or the weather. That said, soloists awareness and anticipation of these is exceptional because of their experience and huge dedication to their chosen task. Is soloing worth the risk? Sometimes. As I've said before, the risks of doing things in life have to weighed up against the risks of not doing things. Balance of risk and reward is for everyone to think hard upon and then take the right path for them.
Probably most interesting is that this free solo was just a warm-up for his project on Ben Nevis that will apparently require 5.14c/d climbing with questionable protection.
Here is some video of him climbing it on a rope:
[youtube=http://www.youtube.com/watch?v=gIZaNluM2KM]