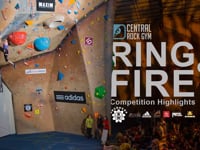 [vimeo http://vimeo.com/67185712 w=980&h=551]
| Video Source | ClimbingNarc Video Page
Our 2nd annual Ring of Fire sport climbing competition packed in both surprises and confirmation about who the top sport climbers in America are. With more than 120 competitors competing in all categories, from youth to open, there were routes to challenge everyone. A competition built around a relaxed atmosphere and a real sense of community, it brought pro's and the average climber together for a day full of fun and excitement. Check out the highlight video produced by Louder Than 11.

MUSIC
Resketch - "Deep Down"
Submerse - "2nite '2010 Mix'"
Snakadaktal - "Dance Bear (Amtrac Remix)"
Related Videos
Posted In:
Competitions
,
Sport Climbing
Tags:
Louder Than 11
,
Ring Of Fire
Climbers:
Andrew Kim
,
Andrew Palmer
,
Chelsea Rude
,
Claire Buhrfeind
,
Daniel Woods
,
Delaney Miller
,
Dominic LaBarge
,
Jimmy Webb
,
Jon Cardwell
,
Josh Larson
,
Kai Lightner
,
Katie Lamb
,
Kyra Condie
,
Meagan Martin
,
Nadya Vorotnikova
,
Sasha DiGiulian
,
Vasya Vorotnikov