The 5th stop on the 2014 IFSC Bouldering World Cup circuit took place this weekend in Toronto1, Canada with Japan's Akiyo Noguchi taking gold for the women and France's Guillaume Glairon Mondet winning gold for the men.
For the women, all three medalists finished all four problems, so it was attempts that separated Noguchi from silver medalist Shauna Coxsey and bronze medalist Alex Puccio.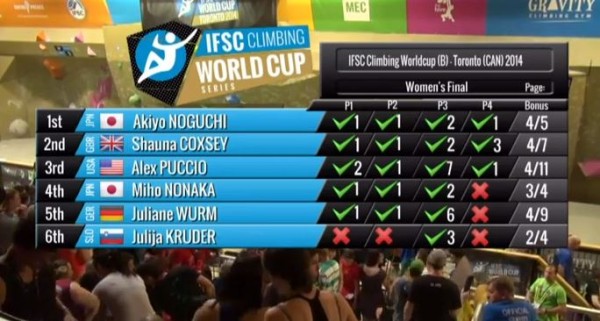 For the men, there was a bit more separation as only the top two finishers finished three problems.  Just behind Glairon Mondet in 2nd place was Jan Hojer who could have actually won the comp had he flashed the final problem.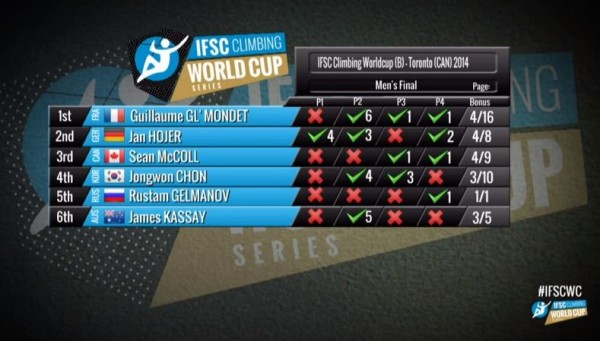 The World Cup circuit continues next weekend with its annual stop in Vail, CO.
2014 IFSC Bouldering World Cup – Toronto, Canada
Men's Final Results
Women's Final Results

Guillaume Glairon Mondet FRA 3t8 4b16
Jan Hojer GER 3t9 4b8
Sean McColl CAN 2t2 4b9
Chon Jongwon KOR 2t7 3b10
Rustam Gelmanov RUS 1t1 1b1
James Kassay AUS 1t5 3b5

USA Finishes

11.  Vasya Vorotnikov
19.  Rob D'Anastasio
20.  Michael O'Rourke
27.  Josh Larson

Akiyo Noguchi JPN 4t5 4b5
Shauna Coxsey GBR 4t7 4b7
Alex Puccio USA 4t11 4b11
Miho Nonaka JPN 3t4 3b4
Juliane Wurm GER 3t8 4b9
Julija Kruder SLO 1t3 2b4

USA Finishes

11.  Angie Payne
13.  Meagan Martin
19.  Claire Buhrfeind
24.  Sierra Blair-Coyle
25.  Claire Bresnan
Here are a couple of other highlights from the finals broadcast:
Glairon Mondet sending Men's 3
[youtube=http://www.youtube.com/watch?v=gpaX6_XHcqk&start=5437&w=600]
Alex Puccio flashing Women's 4
[youtube=http://www.youtube.com/watch?v=gpaX6_XHcqk&start=7277&w=600]
Sean McColl flashing Men's 4
[youtube=http://www.youtube.com/watch?v=gpaX6_XHcqk&start=8122&w=600]
Akiyo Noguchi flashing Women's 4
[youtube=http://www.youtube.com/watch?v=gpaX6_XHcqk&start=8386&w=600]
 Well, technically it was held in Hamilton ↩