The 8th and final stop on the 2014 IFSC Bouldering World Cup circuit took place this past weekend in Laval, France, and it was Japan's Akiyo Noguchi winning another gold for the women while Russia's Rustam Gelmanov took gold for the men.
For the women it was Akiyo Noguchi continuing her domination of the 2014 season with her 4th consecutive victory, sealing her position atop the overall podium for the season in the process.  Shauna Coxsey finished in 5th which was good enough to solidify her 2nd place finish in the overall rankings.  American Megan Mascarenas, who finished 4th in her World Cup debut in Vail, finished in 15th place.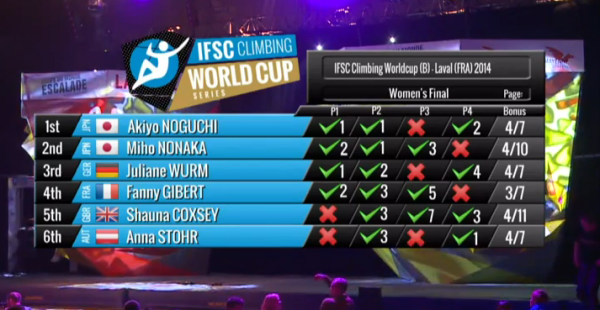 The wind was taken out of the sails of the battle for the top spot in the Men's rankings when Dmitrii Sharafutdinov failed to make it out of the qualifying round, securing the overall title for Jan Hojer who would go on to finish 4th in Laval.  It was the other strong Russian, Rustam Gelmanov, who would send all four finals problems to win the final World Cup of the season in front of Guillaume Glairon Mondet and Jeremy Bonder.  Strong day for the French men as they put four men into the final including legendary climber Stephane Julien who finished 3rd overall way back in 2007.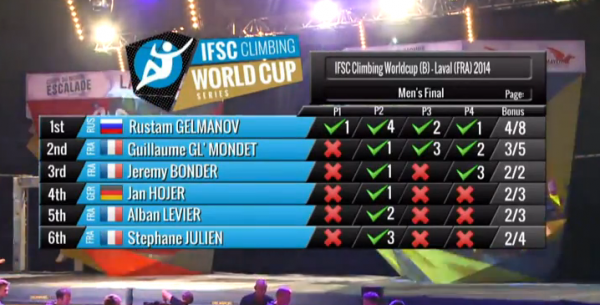 2014 IFSC Bouldering World Cup – Laval, France
Men's Final Results
Women's Final Results

Rustam Gelmanov RUS 4t8 4b8
Guillaume Glairon Mondet FRA 3t6 3b5
Jeremy Bonder FRA 2t4 2b2
Jan Hojer GER 1t1 2b3
Alban Levier FRA 1t2 2b3
Stephane Julien FRA 1t3 2b4

USA finishes

Akiyo Noguchi JPN 3t4 4b7
Miho Nonaka JPN 3t6 4b10
Juliane Wurm GER 3t7 4b7
Fanny Gibert FRA 3t10 3b7
Shauna Coxsey GBR 3t13 4b11
Anna Stöhr AUT 2t4 4b7

USA Finishes

15. Megan Mascarenas
25. Miura Hawkins
2014 IFSC Bouldering World Cup – Final Rankings
Men's Rankings
Women's Rankings

Jan Hojer GER 558
Dmitrii Sharafutdinov RUS 467
Guillaume Glairon Mondet FRA 461
Rustam Gelmanov RUS 337
Kilian Fischhuber AUT 325
Sean McColl CAN 302

Akiyo Noguchi JPN 610
Shauna Coxsey GBR 556
Anna Stöhr AUT 488
Juliane Wurm GER 430
Miho Nonaka JPN 300
Alex Puccio USA 289
I was in the mountains all weekend which meant not much time to watch the live feed, but I will try to post some highlights here once I get a chance to re-watch finals.