The plot thickens on Cerro Torre as Kennedy & Kruk's "fair means" ascent of the Compressor route is quickly followed by David Lama's first free ascent.  Lama posted this update on his Facebook page:
I can't believe it… For more than three years I was driven by the idea of freeclimbing the Compressor route on Cerro Torre and now this dream has become true!

My partner Peter Ortner and I started on January 19th from El Chalten and hiked in to Nipo Nino, our first camp. The next morning we climbed up to the Col de la Paciencia, rested there for a few hours and then started our attempt at around 1pm.  We climbed to the start of the Bolt Traverse, but instead of turning right, we went straight up on the technically difficult arete, a few meters left of the Salvaterra crack. I took a couple of falls, until I figured out the right sequence and then was able to send the pitch on my second try from the belay. A few pitches higher we reached the Iced Towers, where we picked a small ledge into an icefield to bivi.  Early the next morning we climbed to the start of the headwall. The fact that Hayden and Jason had chopped Maestri's bolts a couple of days ago made my endeavour even more challenging, especially mentally as the protection was poor and I had to do long run outs. Climbing on hollow and loose flakes we followed the original Compressor route for three pitches. About 20 meters below the compressor we traversed to the right and then reached a system of cracks and corners that lead us to the summit. Climbing the route in alpine style took us 24 hours from the Col.

To me this first free ascent of the south east ridge of Cerro Torre is the end to the probably greatest adventure I experienced in my life so far. I'm especially proud having it done without adding any bolts. I learned a lot during the past years and climbing in this amazing mountain range has simply been great. Realizing dreams – it couldn't be any better!
As Lama indicated, the removal of over 100 bolts by Kennedy and Kruk caused him some unanticipated difficulty in his free climbing efforts.  The removal of those bolts also stirred up quite the controversy down in El Chalten as Kennedy and Kruk were not well-received upon their return to town.  Upon arrival they were met by an angry mob and questioned by police as outlined in this google-translated interview with Kruk, Kennedy, Colin Haley and Rolando Garibotti.
Chopped bolts from Cerro Torre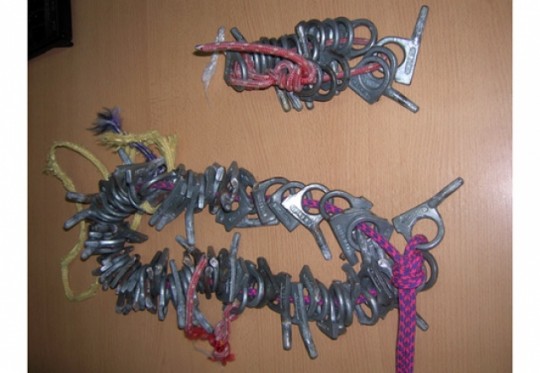 It will be interesting to get more information from Kennedy and Kruk once they get back to the States.  Did they know that Lama was also making an attempt on the line this season?  Given the reaction, do they have any regrets?  How much is Kruk hoping this Cerro Torre attention makes people forget about this video?