Has it really been almost 2 months since we last did this???  Hopefully this massive round-up of News & Notes will get me back in your good graces…
News…
In the past week Brit Tom Bolger managed a couple of notable sends in Spain with a repeat of Ciudad del dios (5.14d/5.15a) at Santa Linya and an onsight of L-mens (5.14a) at Montsant.
Jimmy Webb ticked off Tilted World (V13) at Tennesse's Lilly Boulders over the weekend.  Tilted World is another of those James Litz testpieces that took on an almost mythical status, not to mention several different names, as it sat unrepeated for years until Webb's ascent (which you can see here).
One of the biggest challenges living here in such a climbing mecca is that its easy to end up climbing too much. It's normal when you go on a trip and you want to climb everyday to maximize your time and get as much in, in the 3 weeks that you have. But being here longterm I often find myself so beat up from so many day and months in a row with very little rest. For me learning to not feel obligated to go climbing even though there are 50 projects waiting to be done right out my door, has been key to sustaining my motivation over a long period  of time.
Without letting this get too involved, the route that I went to solo turned out to be harder than I expected, and I was climbing in my blown-out sport shoes with no chalk bag because we'd already stashed all our climbing gear at the base of Dar el Salam a few days before. The real crusher, though, turned out to be when I topped out and realized how far away the summit of Jebel Rum was. I'd hiked about an hour from town across flat desert to get to the route, now I was about that same distance from the summit, but instead of flat desert it was all cliffs, chasms and ramps. Basically it was the most complicated topography I could imagine.
Ben Blakney on Gun Control (V13)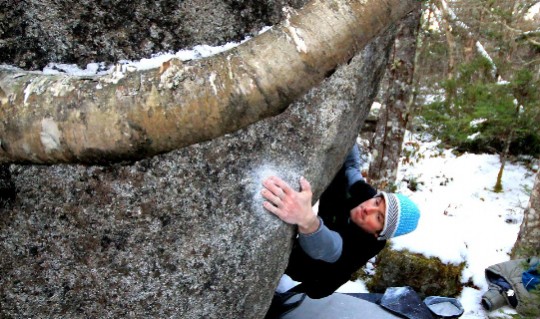 …And Notes…
Dream In Vertical, one of my favorite "personal" blogs out there, is participating in a fundraiser to help raise money for the Access Fund's acquisition of the Jailhouse in California.  You can help them out by donating below or at this link.  All funds they gather before February 9th will be doubled as part of a fundraiser at their local gym, Planet Granite.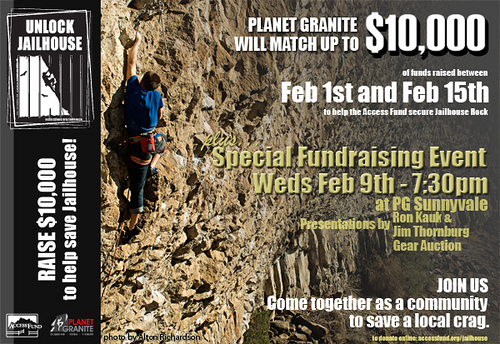 Paul Robinson wearing the new kicks on The Island in Fontainebleau, France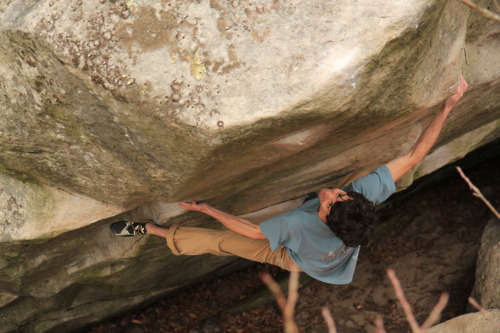 I guess my point is, if you enjoy the process, the lifestyle and you go after it (whether it's a mountain or a spectacular image) with your whole heart, sooner or later the clouds will part and you will be in the perfect place ready to make a run for the summit.