After an endless stream of frustrating injuries I've somehow managed to climb on real rock 4 of the last 5 weekends with another trip to the Red River Gorge in the plans for the coming 3 day weekend.  The main ingredient in this mostly pain-free stretch has been my avoidance of bouldering of any kind which is bad because I really like bouldering, but it's also good because climbing anything is a good feeling at this point.  Remember kids:  climbing anything is better than climbing nothing at all.  Trust me on that one.
Now that we have that pearl of wisdom out of the way here are some News & Notes:
Tune in this Friday at either 11:00 AM or 1:30 PM EST (depends on the weather apparently) to catch live coverage of the women's qualifying round for the Bouldering World Cup in Vienna, Austria where Alex Johnson is scheduled to compete.  Vienna World Cup Live Stream
Jonathan Siegrist and Paige Claasen just wrapped up a pretty decent 2 week trip to Oregon's Smith Rocks.  In addition to a handful of 5.12 and 5.13 onsights Siegrist managed to put down 5.14a's Bad Man, Scarface, Mr. Yuck, Chemical Ali and To Bolt Or Not To Be in short order.  Claasen had an excellent trip as well with sends of White Wedding (5.13d) and Churning In The Wake (5.13a) and flashes  of Darkness at Noon (5.13a) and Kings of Rap (5.12d).  Check out Siegrist's latest blog entries for the full story.
Jonathan Siegrist on To Bolt Or Not To Be (5.14a) at Smith Rocks State Park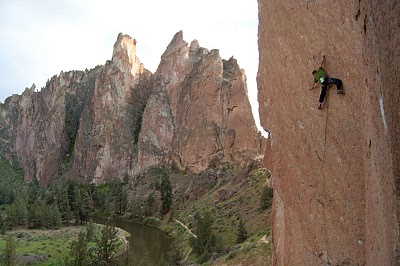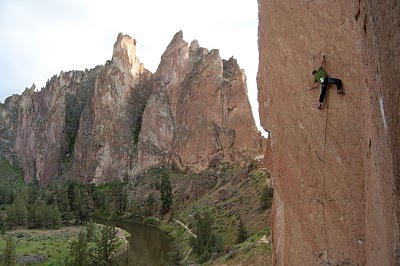 Cell Block Six from Sean Stewart on Vimeo.
There's something oddly amusing about seeing huge boulders in RMNP almost completely buried in snow
Alex Honnold is teaming up with Ueli Steck, who is best known for his fast solos of big alpine routes in Europe, to make a run at the speed record for climbing The Nose on El Capitan held by Hans Florine and Yuji Hirayama.  Here's a short clip of Honnold and Steck working out the King Swing roughly half way up the wall.  What do people think about these speed climbing records.  Do you care??
Alex and Uli speed climbing The Nose on 5.20.10 from Chris Falkenstein on Vimeo.
The 2010 Reel Rock Tour filmmaking contest is still going on with entries dues by July 20th:
The 2010 REEL ROCK Filmmaking Competition is on.  We want your best 2 minute climbing-related film. This year there are no categories.  The best entries will be posted online this summer, and we'll award two prizes – an Audience Award as determined by online voting, and the Judges' Choice Award, determined by the filmmakers of the REEL ROCK Tour

The winners will be announced at the Boulder premiere Sept.16th, 2010, and will be featured on the tour.  Winning filmmakers will win mega prize packages from our title sponsors, Windstopper and The North Face, including outerwear, tents, sleeping bags, and the works, and supporting sponsors Petzl and Evolv are throwing down climbing gear and shoes.  We also have two new sponsors this year who are helping to sweeten the pot.  Sterling Rope makes the lightest, best-handling climbing ropes in the world, and they're throwing two of em into the mix.  And Goal0 is an exciting new company making rugged, renewable power solutions for adventurers around the world.  They're offering a Sherpa Adventure Kit, which is the perfect way for all you filmmakers out there to keep your cameras and laptops charged while out on a shooting expedition.   And if all that gear is not enough enticement, we're also giving $500 cash to each winner.  So get out there and make some magic!

Submission deadline for the competition is July 20.  Check out the http://www.reelrocktour.com/ site for full rules and to watch last year's winning films.