Climbers Archives: John Long
Climbing's best-known author, pioneer and original Stonemaster, John Long was seriously injured on November 29 at the Rockreation climbing gym in Los Angeles when his bowline came untied and he fell feet to the floor, suffering a compound fracture to his lower left leg/ankle.
Before everyone starts decrying his use of a bowline — although there is certainly merit to the argument against using one — this is not the first instance I've heard recently where a climber decked from not finishing their knot, bowline or otherwise.  It bears repeating that no matter who you are and no matter how long you've been climbing, you can never double-check yourself and your partners enough before leaving the ground.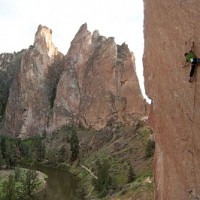 News & Notes from Jonathan Siegrist, Paige Claasen, Mike Foley, Alex Honnold and more…