Finals of the Bouldering World Cup at the 2009 Teva Mountain Games sounded like quite the show last night by all accounts.  Alex Puccio won it for the Women with a convincing 4 topouts while Jonas Baumann narrowly defeated Daniel Woods to win it for the Men.  I'll have a full wrap-up tomorrow, but in the meantime here are the final results.
Men's Final Results (with Semi-Final ranking)
Jonas Baumann (4)
Daniel Woods (3)
Kilian Fischhuber (5)
Paul Robinson (1)
Kyle Owen (2)
Rustam Gelamanov (6)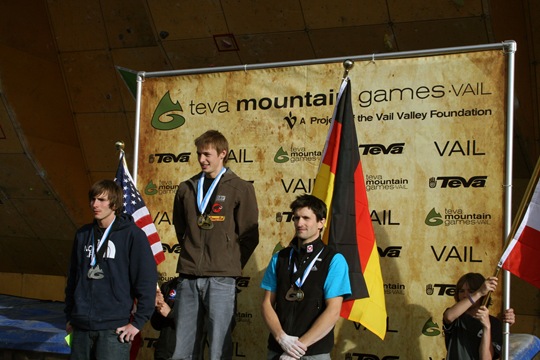 Women's Final Results
Alex Puccio (6)
Alex Johnson (2)
Akiyo Noguchi (3)
Anna Stöhr (1)
Jain Kim (4)
Natalija Gros (5)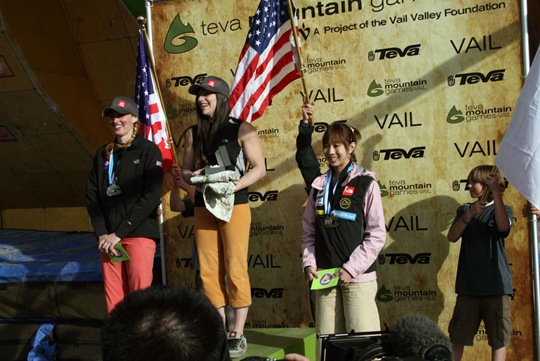 Photos:  Prana Blog
In case the scoring system is confusing to you, here is my explanation from ABS Nationals:
The basic explanation of the scoring system is that there are only two holds that count on each of the problems.  There is a so-called Zone or Bonus hold and the finish hold.  The bonus hold is a semi-random hold, usually toward the top of the problem.  Climbers get credit for controlling the bonus hold and the finish hold.  The other holds literally count for nothing.  The way the final scoring is done is that climbers are ranked first  by # of problems they top out, then by # of attempts to top out, then by # of bonus holds followed by # of attempts to reach a bonus hold.