Rocktoberfest hits the Red River Gorge next weekend, October 10-12.  Reel Rock Tour, tons of free swag and of course a huge party…and climbing too!  Register soon to guarantee yourself one of the sweet swag bags.  If you use my referral code of 68145 when you sign up (and I win something cool) I will be sure to buy you an Ale 8 or something.  Here is a full schedule:
Friday:
6pm : Vendors open for your perusing pleasure
8pm : Short Movies and Party
Saturday:
9am-5pm : The Clip and Go competition begins in the PMRP – Sore Heel Hollar
6pm : Dinner's served, thanks to Bourbon and Toulouse; Vendors open for your perusing pleasure
8pm : Reel Rock Tour Movie Special
7pm-Into the night : Music to move to.. Slant Kings, 23 Strings Band and more..
Sunday:
8am : Breakfast served thanks to Climbers for Christ
10am : Clinics head out
The big news last week in the world of hard bouldering is of course Ty Landman repeating Chris Sharma's Practice Of The Wild (V15) in Magic Wood, Switzerland.  As usual, Ty has a coherent and well thought out blog entry on the process of sending this problem.  Look for video to surface soon.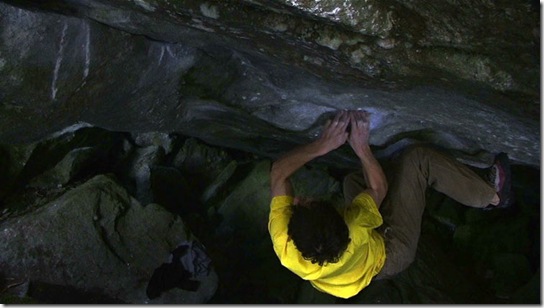 Photo:  Moonclimbing
The UK's James Pearson continues to prove his all-around game.  He recently established Walk Of Life (E12) which involves dicey mid-5.14 slab climbing with scant protection!  Hot Aches was there to capture it all on tape for their upcoming Committed Vol. 2.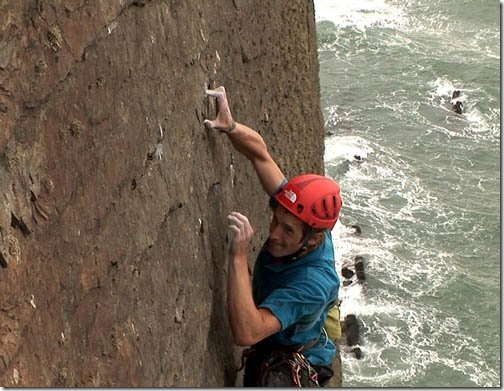 Photo:  Hot Aches Productions
[youtube=http://www.youtube.com/watch?v=zRBir-aCCCs]
This weekend we will be in MN for the 16th anniversary party at VE St. Paul followed by bouldering at Taylor's Falls.  Hope to see some of the MN readers up there!