Dave MacLeod freed his project on Ben Nevis after months of dedicated work.  I'll let you read the various reports around the interwebs if you want more, however I would like to highlight his rope beta for the route.  According to HotAches, MacLeod started the climb tied to two ropes, and at separate points in the climb he jettisoned each of the ropes to finish the last bit of the route as a free solo.  Very clever!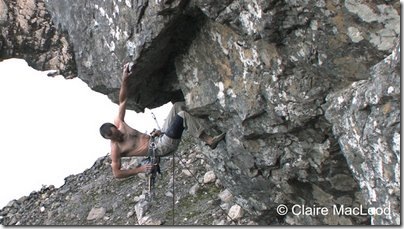 Photo:  Claire MacLeod
There has been a lot of good discussion recently on the FrontRangeBouldering Message Board about the possibility of the bouldering at Mt. Evans appearing in an upcoming guidebook.  Posts of particular interest to the discussion can be found here and here.  Long story short is that many people feel it is too early in the development of the access issues at Mt. Evans to include it in a guidebook.  There has also been some interesting reaction on both sides of the issue on other blogs. David Lloyd has a very well thought out post on how guidebooks have been a positive influence in his life while Shannon provides some insight on how guidebooks may have negatively affected climbing at the Buttermilks.
Daniel Woods and Paul Robinson are back from two months of bouldering in the Rocklands of South Africa with an unsurprisingly impressive ticklist.  Combined they managed to climb 70 problems V10 or harder that they had not done previously (Daniel has been to SA previously).  Check out the blog at the newly redesigned Big Up Productions for more updates from South Africa.
The Outdoor Retail Trade Show is this weekend in Salt Lake City, UT and that of course means it's time for another huge bouldering comp.  Check out this preview of one of the walls to help get you psyched for the comp.  The running order looks stacked as usual.  I guess a $10,000 purse will do that.
Via Carlo Traversi
Joe Kinder has started to get psyched on making the hike up to Colorado's Fortress of Solitude crag with the intention of repeating Tommy Caldwell's Kryptonite (5.14c/d).  Of particular note is his insistence that no holds on the route have been manufactured which is in response to controversy that cropped up after a visit from Francois Legrand and Yuji Hirayama several years back.  Hopefully he can stay psyched long enough to get the send.
The Fortress Of Solitude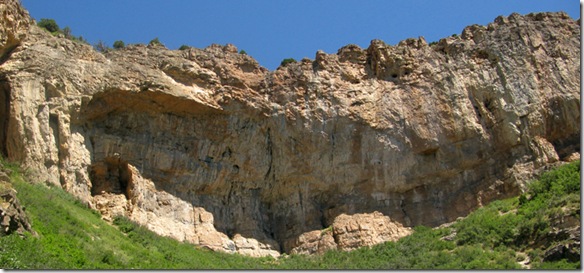 Photo:  Joe Kinder
I still haven't gotten around to watching Dosage 5 for a 2nd time to solidify my thoughts on it to give you a full review.  From reading a few comments on the Big Up Blog it would appear that others are in agreement that the movie is good but that there are a few things that weren't quite right.