Climbers Archives: Mohammad Jafari Mahmodabadi
Nice interview with surprise ABS Nationals winner Mohammad Jafari Mahmodabadi by his home gym in the U.S., Earth Treks Climbing in Golden, CO:
For me, winning championships comes second. The thing that is most important to me is being able to travel and build relationships with climbers and people from all over the world.
Lost in all the controversy over the scoring system was the great performance turned in by Mohammad.
buy cymbalta online https://myindianpharmacy.net/dir/cymbalta.html no prescription

 From the interview it sounds like he will be in the U.S. for a few years, so I think we can look forward to seeing him compete again.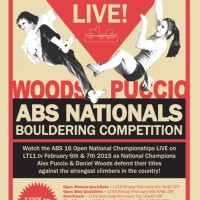 Alex Puccio and Mohammad Jafari Mahmodabadi win 2015 ABS Nationals