It was an exciting and ultimately controversial evening of bouldering on Saturday night in Madison, WI as Alex Puccio and Mohammad Jafari Mahmodabadi came out on top at the 2015 2015 ABS Nationals Bouldering Championship.
The Results
Men's Final Results
Women's Final Results

Mohammad Jafari Mahmodabadi
Daniel Woods (National Champion)
Michael O'Rourke
Josh Larson
Nathaniel Coleman
Austin Geiman
Rob D'Anastasio

Alex Puccio
Alex Johnson
Angie Payne
Megan Mascarenas
Kyra Condie
Grace McKeehan
Starting with the women, Alex Puccio was the heavy favorite coming into the weekend and she did not disappoint.  She was the only female competitor to complete more than one problem in finals, finishing all four and flashing the last three to give her a decisive 9th National Championship.  Behind her in 2nd and 3rd places were Alex Johnson and Angie Payne, both of whom beat out Megan Mascarenas for spots on the podium on the strength of their performances on the opening problem of the final.
For the men, things got interesting when the three top male competitors all finished with two tops and had to be separated by points under this year's new Rank Scoring format.  Based on the strength of his performance on the technical 3rd boulder, a problem the rest of the field really struggled with, Iraninan climber Mohammad Jafari Mahmodabadi narrowly defeated Daniel Woods and Michael O'Rourke.  As Jafari is not a U.S. citizen he is not eligible to be National Champion so that title went to Woods, his 9th.
The Controversy
Afterwards the attention of the competitors and many watching at home went toward deciphering just what had happened1.  From the USA Climbing website is this explanation of how to understand the results:
To understand the ranking methodology, consider each boulder/route as its own competition. Each competitor is ranked based on how they perform on each boulder/route, with a TOP (or highest hold controlled), in the least number of attempts resulting in the highest ranking. Each competitor's placement in the round is the result of a combined ranking of his/her rank on each individual boulder/route.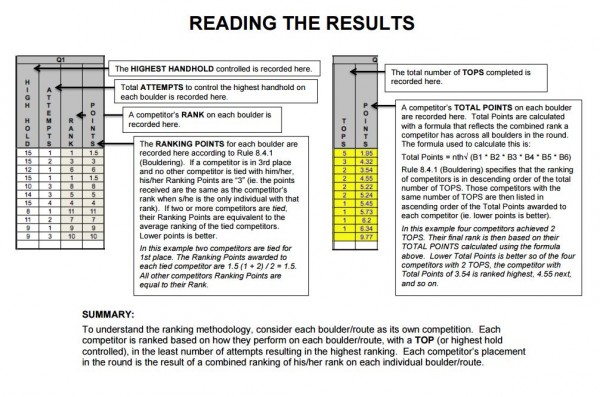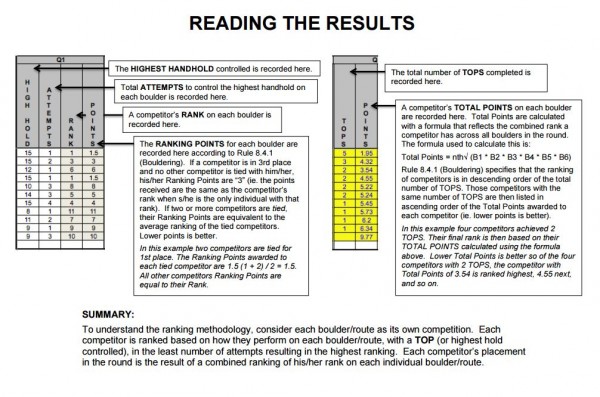 At a high level this scoring system makes sense, however the details are where it gets complicated and leaves the door open for a number of minor differences in individual performances to affect the outcome.  For instance:
Daniel Woods wins if he gets one hold further on problem 3
Daniel Woods wins if Josh Larson does not get as high as him on problem 4
Daniel Woods wins if Michael O'Rourke and Nathaniel Coleman don't both send problem 2, tying Woods on that problem and bringing down his rank
Josh Larson wins if he matches the finish on problem 4
And so on…
Of course Woods and O'Rourke could also have won had either finished the final problem, something Woods nearly did in which case nobody would likely be talking about any of this.
Ultimately, I do think the Rank Scoring format is "fair" in what it is trying to do, but its complexity is such that it can only be reasoned out in hindsight and not in real time which is not ideal for competitors and spectators alike.  Is there a better system?  Probably.  Is it the IFSC's bonus hold system?  Not in my mind at least2.  Will Rank Scoring be used at ABS Nationals next year?  I have no idea.
Thank You
Thanks again to everyone who tuned in for the live broadcasts this weekend.  Your viewership and support is why we work hard and continuously try to improve how we bring you these events.  I want to thank Jon, Jordan and Josh at Louder Than 11 for having me be a part of the show once again this year as well as Pete Ward for helping me call the action for you guys at home.  It was a ton of fun and I can't wait to do it all over again next year3.
If you missed anything, you can catch up at these links:
Friday – 2/6/2015
Saturday – 2/7/2015
 I wish I could have done a better job at explaining this while we were on the air ↩
I saw a lot of people arguing in favor of this.  For me I don't like a system that only rewards climbers for two holds on a boulder problem.  Many people also argued that this system is easy to understand, and while that may be true compared to Rank Scoring, I would argue that it is still not that straightforward for a casual viewer.  But maybe climbing competitions never will be? ↩
 Or how about next month at SCS Nationals? ↩