After years of hard work and preparation Tommy Caldwell and Kevin Jorgeson set off yesterday morning to attempt a ground up send of their project on El Capitan's Dawn Wall.  In his last blog entry before the push Jorgeson lays out the plan for the first day which was to try to get to the top of pitch 8 followed by a more drawn out effort on subsequent days given the difficult pitches in the middle of the wall.  As the pair mentioned in their recent Climbing Magazine interview the goal is for each pitch to be led free by one climber and followed free by the other so they have quite the challenge ahead of them.
Dawn Wall Project topo – Click to enlarge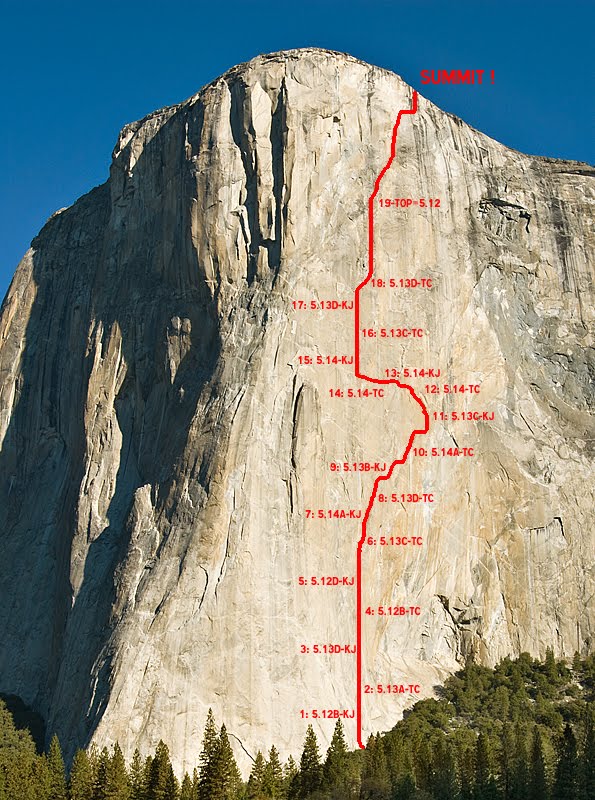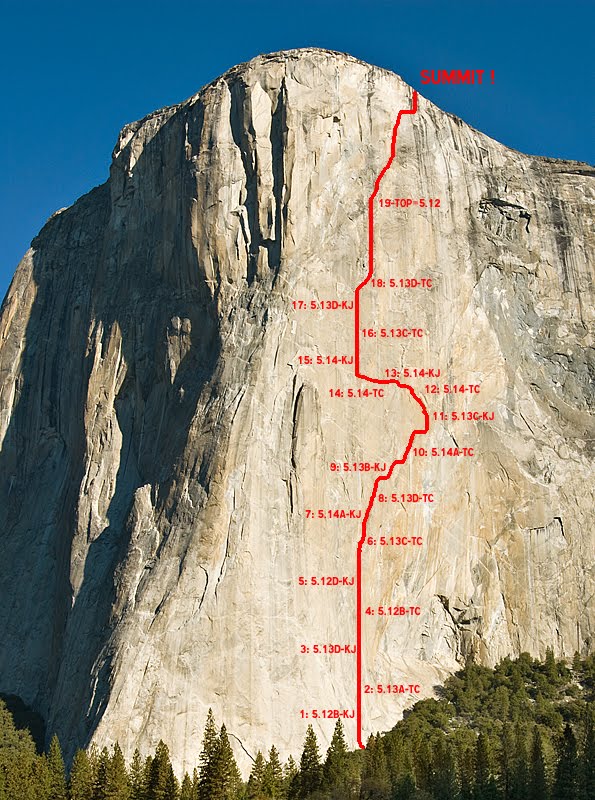 Thanks to the wonders of modern technology (and above average cell phone reception on the side of El Cap when compared to the rest of Yosemite) Jorgeson was able to update the world on their progress yesterday via Twitter and Facebook.  Here are a few of his updates:
Had an hour long battle with pitch 3. Finally did the delicate traverse crux third try and went to top. Onward.
Great lead by Tommy on pitch 6 to finish just as it got dark. Putting on my headlamp and getting ready to follow.
Day one is a wrap. Didn't get to pitches 7 and 8 today but plans are made to be altered....
As you can see they didn't quite make the top of pitch 8 like they had planned but with 2 weeks to spend on the wall they have plenty of time to figure things out.  Big Up's Josh Lowell is along for the ride to chronicle their efforts so there is definitely more to come on this topic.  Stay tuned…