Americans Carlo Traversi, Alex Puccio and Paul Robinson are having an excellent start to the bouldering season over in Switzerland including the FA of a potential V15 in Magic Wood by Robinson.
Carlo Traversi arrived in Switzerland just over a week ago for his first visit and he's hit the ground running with some 12+ V11 or harder sends already under his belt.  In addition to his recent repeat of The Never Ending Story (V14), Traversi just yesterday did 2 Magic Wood V13s in one day with repeats of The Riverbed and Steppenwolf.  On his blog he's got a nice rundown of how things have been going saying he's "very, very impressed" with Switzerland thus far.
Carlo Traversi bouldering in Switzerland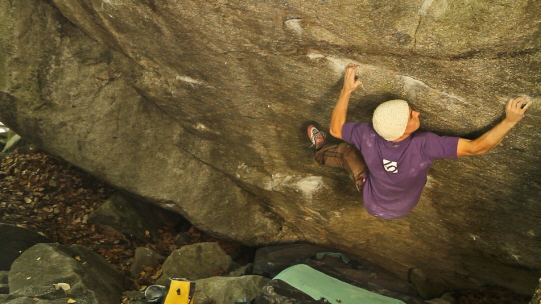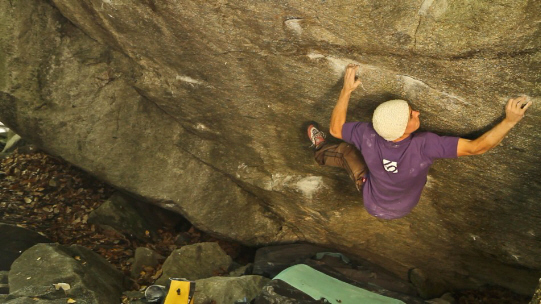 Also in Switzerland for the first time is Alex Puccio.  Writing on Five Ten's blog Puccio fills us in on her first 3 days of climbing that saw her repeat five V11 or harder boulders in Magic Wood despite less than ideal conditions.  Notable among those five were her sends of both parts of The Never Ending Story (V12 and V11 respectively) which has given her motivation to go for the full link of this V14:
Now that I have both parts of Never Ending Story put away I want to try and Link them. I did both parts really fast so maybe the link is possible for me! Lets see…
Last but not least is Paul Robinson who has been over in Switzerland the longest of the three.  Having already been to Switzerland 2 years ago Robinson seems more focused on establishing new problems this trip, and that's exactly what he did yesterday with the FA of Ill Trill for which he is proposing a grade of soft V15.
According to this report on 27Crags Robinson worked out this13 move line out a steep cave over the course of 6 days at the same time he worked on Chris Sharma's Practive Of The Wild, a rarely repeated V15 that is also in Magic Wood.  Writing on his 8a.nu scorecard Robinson calls Ill Trill "an amazing boulder" and says that it felt "harder than ANY 8B+ i have done."
Ill Trill is Robinson's 3rd V15 or harder in the past 6+ months after he did Lucid Dreaming (16) in Bishop, CA back in March and Monkey Wedding (V15) in South Africa's Rocklands back in August.