Last week I took a long weekend trip out to Yosemite, CA to meet up with the folks behind Professional Climbers International which is a new group working to create a professional class of rock climbers.  There's not much to be said at this point about our discussions other than to say that I'm excited about what they're trying to do.  I'll keep you posted as things develop.
What I do have something to say about is a piece of news so important I'm still a bit stunned it hasn't hit the front page of 8a.nu yet.
I went bouldering.
It was awesome.
Yes, after wallowing on the couch the past 2+ months I just said screw it and threw down on some of the best boulders Yosemite had to offer for five days straight.  Smart?  Not really, but it sure was fun while it lasted.
Wednesday and Thursday we spent in Camp 4.  I'd bouldered in Camp 4 on a previous trip, however I spent most of my time on that trip working (and failing) on this little boulder: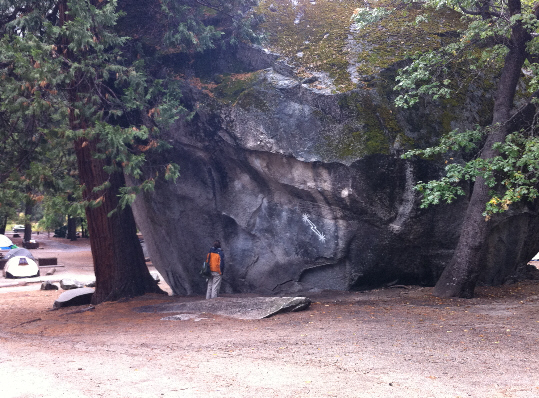 So it was nice to have a psyched crew of knowledgeable people to show me some of the other problems in the world's most famous campground.  One of my favorites was Hammerhead, a tall V5 which Scott can be seen sending in this picture: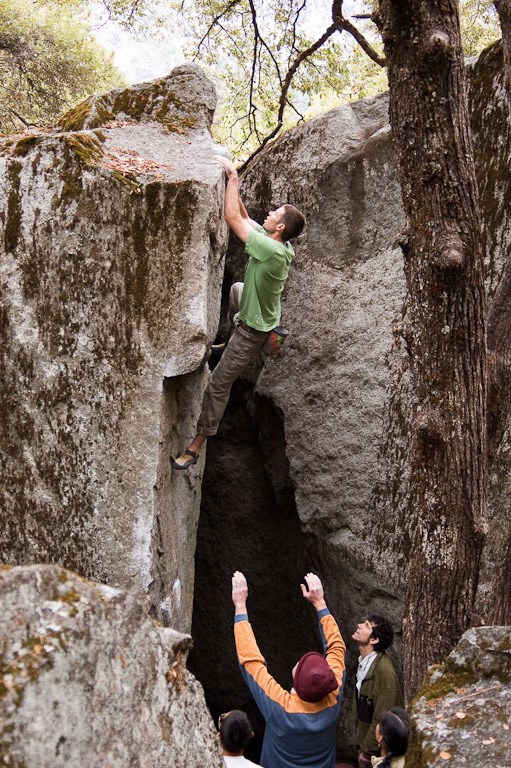 The official dog of Trying Hard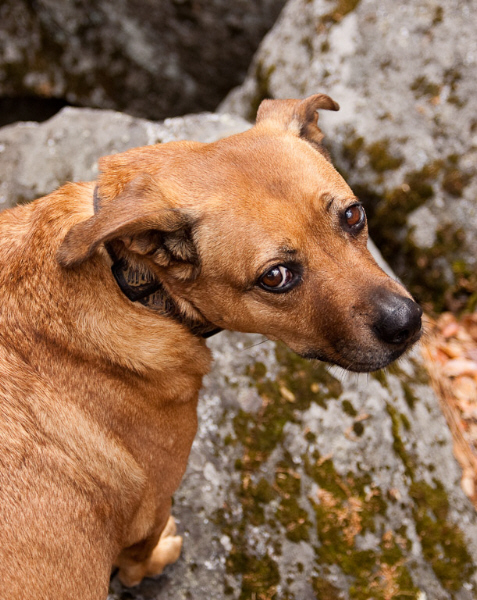 After 2 days of bouldering in Camp 4 Friday was to be a rest day, but I went with the crew to the Sentinel boulders anyhow just to hang out.  I was doing a good job resisting the urge to climb until I went to check out No Holds Barred (V7) and that pretty much sealed the deal:  I was climbing.  I was so sore from the previous days that just pulling off the ground hurt my muscles, but I was not deterred.  Despite the high motivation I failed at climbing the problem and somehow never bothered to take any pictures of it either.  This video doesn't really do it justice but it gives you an idea what the No Holds Barred is like if you're Ron Kauk:
Once Saturday came around resting was out of the question with my flight home quickly approaching Sunday night.  I spent the day sampling more great problems at Curry Village, the 140 Boulders and Candyland with a huge crew from Santa Rosa.  Despite it being my 4th day on I somehow felt better than I did on Friday, and it turned out to be a pretty great day.  The clear highlight for me was sending the classic riverside boulder Atlantis (V6).
The Crew at Atlantis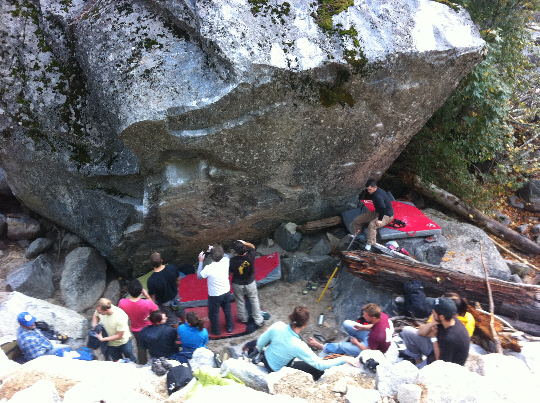 Video of someone sending Atlantis from last year using a totally different method than I used
Another highlight on Saturday was cleaning up a problem I failed on a couple of years ago:  Once Upon A Time (V3) at Candyland.  This dihedral is a quintessential Yosemite climb that feels nearly impossible until you really trust your feet.  In the two pictures below you can see me trying to reach my way to the top in a futile effort.  Simply getting each of my feet up a few inches unlocked the whole problem and found me on top shortly after these pictures were taken.  A real must do if you're in the area.
Attempting Once Upon A Time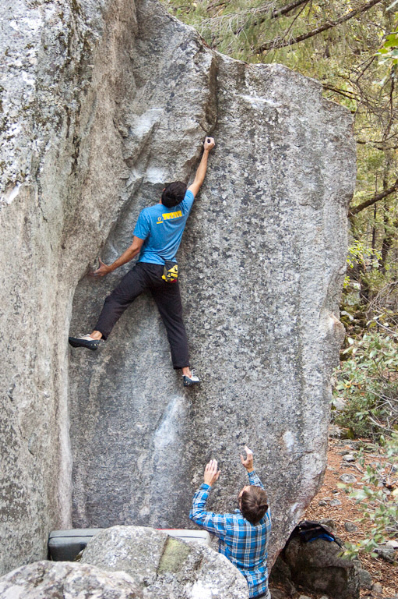 Notice the patent-pending low gravity Organic Bouldering shirt that has helped me climb dozens of a problems I had no business doing.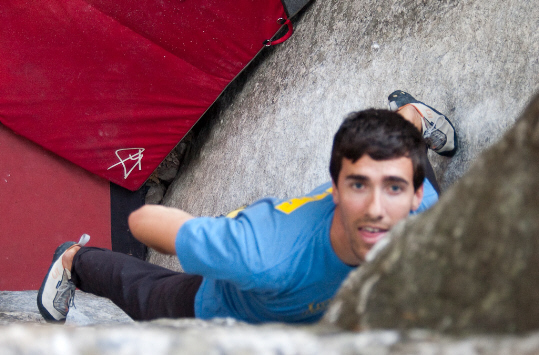 Sunday was spent on a quick tour of the Cathedral Boulders before heading home.  I warmed up on The King, a supposed V7, before getting shutdown on just about everything else.  The grades in Yosemite are funny like that.  Often times the V0-1s feel just as hard if not harder than the V5s!  Regardless, it was time to pull the plug before I hurt myself any worse.
While I clearly enjoyed all the bouldering on amazing granite the real highlight of my trip was all the great people I met.  It would be foolish of me to even try to list everyone's name, just know that I truly appreciated meeting everyone I was introduced to over the course of those 5 days.  Hopefully I'll be running into you all some time soon.
Until next time…