Last year I ran a contest giving away Access Fund Holiday Prize Packs, and I enjoyed it so much we're doing it again this year.
Like last year the rules will remain simple.  To enter, all you have to do is leave a comment on this post about whatever you have on your mind these days.  The number of prize packs given out will be determined by the level of participation, the more people that comment the more prize packs I will give out.  I'd like to aim for 1 prize pack per 50 entries, but that is subject to change.  You have until Wednesday, November 18th to enter.
The prize will be the Basic Holiday Package, here is what you can win:
A 1-year Access Fund Membership to help keep your crags open
A 1-year subscription to Rock & Ice magazine (a $30 value)!
Access Fund organic cotton tee T-shirt from prAna
Omega Pacific keylock biner engraved with "Access Fund"
prAna Signature Hemp Cap to keep your noggin cool
RESTOP bag system: just because a bear goes in the woods doesn't mean you should
Higher Ground Roasters' Access Fund Brew
Seasonal flavored Clif Bars (think gingerbread and pumpkin spice)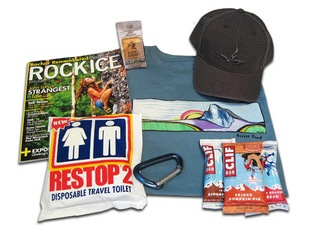 This is open to U.S. and international readers alike, so spread the word.  If you don't happen to win, you are strongly encouraged to support the Access Fund, or your local access organization, on your own in any way that you are able to.
Keep in mind that all the ad revenue generated by this site goes to access causes like this.  Every time you click an ad AND buy something, you are helping keep your crags open and functioning.