News…
It was no surprise that our boy Jeremy Collins and his partner Tommy Caldwell brought home the W, but they earned the hell out of it. They finished with over 52,000 points, beating the 2nd place team by 10,000 points. Tommy said afterwards that 24HHH was harder than his two-routes-in-a-day El Cap linkup, pretty crazy. His individual score alone beat our combined team score. Damn.
Dave Graham seems to be on his way back to route climbing form with his recent ascent of Abyss (5.14d) at Gorges Du Loup, France.  This was only his 6th 5.14a or harder in an injury plagued 2009.  By way of comparison, he ended 2008 with 12 5.14as or harder in the last 6 months of the year alone.  Here is what Graham had to say on his 8a card about the Abyss send:
I love when you don't think you can climb something due to conditions, and you somehow rise above, and end up at the chains. Priceless. a wonderful climb, with technical tufa moves, especially as its one of the only natural climbs at the crag.
Dave Graham sending Abyss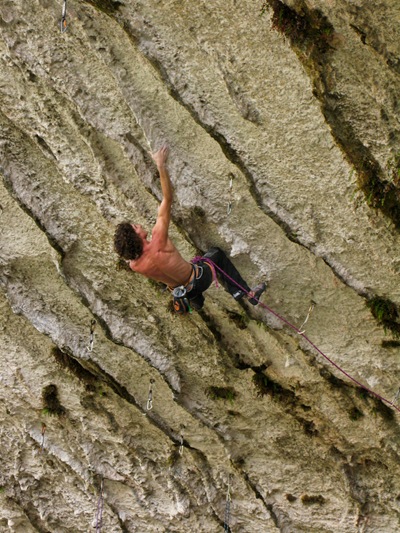 Speaking of routes 5.14a or harder, according to 8a.nu Adam Ondra has done 9 in the past week and a half, with five of them being onsights!  You can read an interview Ondra did with Planetmountain after doing the FA of an old Alex Huber project at Austria's Schleier Wasserfall, Fugu (5.14d), by clicking here.
The brothers Huber (Alex & Thomas) were the first to free the route Eternal Flame (VI 5.13a, 650m) on the south face of Pakistan's Trango Tower.  First done mostly free in 1988 by a German team featuring Wolfgang Gullich, the route resisted complete free attempts until the Huber's unlocked the free climbing this summer.  Full details here, here, here and here.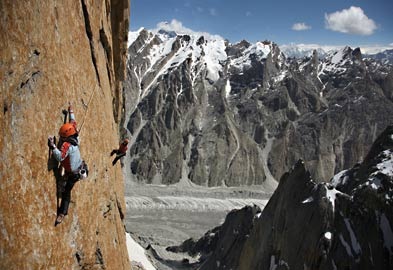 …Notes…
…And Videos
The lower part was hard, because they set the holes very far apart so that nobody could climb them. Well, they didn't count on me!
And finally, here is the trailer for the upcoming video Colorado Glow, a "Colorado bouldering epic" featuring Jon Glassberg, Nate Draughn, Carlo Traversi and Ryan Olson.  Look for it October 15th at louderthan11.com