Kevin Jorgeson had a post on his blog recently where he outlined the packing list for his upcoming attempt to free a new route on El Capitan with Tommy Caldwell.  In reading over the list and looking at the pictures, it really struck me just how much gear is needed to attempt a climb of this nature.  Keep in mind that this is just Jorgeson's portion of the gear, I'm guessing they are going to want to bring some other important items as well (like maybe a rope or three).
A few of the items you'll need free climbing on El Cap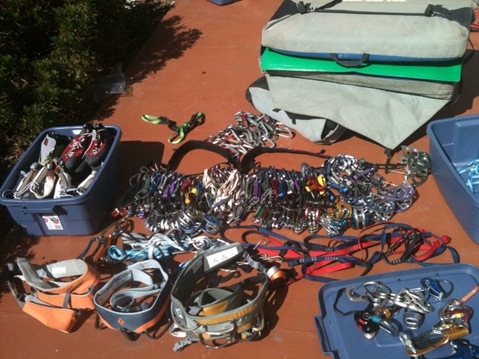 Faced with this mouth-watering pile of gear, it got me to thinking how much it would cost for the common man to be outfitted with a gear list like this.  So, I did what any self-respecting computer nerd would do and I made a spreadsheet.  Based on some rough guesses on the pricing of a few of the more miscellaneous items (biners, slings, etc), here is the breakdown:
The (Partial) Cost Of Freeing El Cap
$ 849.70  – 6 pairs of shoes at an average cost of 141.62 apiece
$ 3,149.60 – 46 cams at an average cost of $68.47 apiece
$ 1,756.15 – Estimated cost for loads of miscellaneous gear
—————————-
$ 5,755.45
Talk about needing a bailout, it would take most guys (or gals) years to talk their wives/girlfriends into letting them buy all that gear save enough money for all that gear.
Of course no amount of money (or sponsored schwag) can guarantee success, so it'll be very interesting to follow the efforts of Jorgeson and Caldwell as they unfold.  I'm eager to see how Jorgeson's world class skills in other disciplines will translate onto the Big Stone.  However it goes, my guess is that Tom Evans of the El Cap Report will be all over it.