Last summer while I was wandering around the boulders in RMNP's Lower Chaos Canyon I stumbled across an odd scene:  there was a really strong looking guy getting very close to sending Freaks Of The Industry (V13).  It wasn't odd that someone was close to doing the problem (it had seen many repeats at that point), the odd thing was that I had no clue who the guy was.  As a connoisseur of all things related to climbing (on the internet), I figured I would recognize just about anyone able to climb a problem that hard.
You see, the internet age and the rise of sites like 8a.nu has led to an increased sense among many people, myself included, that if someone isn't online spraying about reporting their climbs then they must not exist.  While most noteworthy hard sends find their way online at some point, I think it's important to remember that there is always more going on out there than we think.  Talking about climbing on the internet is fun, but it's not everything to everybody.
So, who was this mystery man looking strong on Freaks last summer?  Well, it turned out that it was none other than Phil Schaal.  A relative unknown last year, Schaal has had a pretty good past 12 months with sends of over a dozen V13s (including the 2nd ascent of Dave Graham's Book Of Bitter Aspects) and an impressive send of Jade (V15).  As an added bonus for us online stalkers climbing aficionados he also started a blog.
Phil Schaal sending Ode To The Modern Man (V14) at Mt. Evans, CO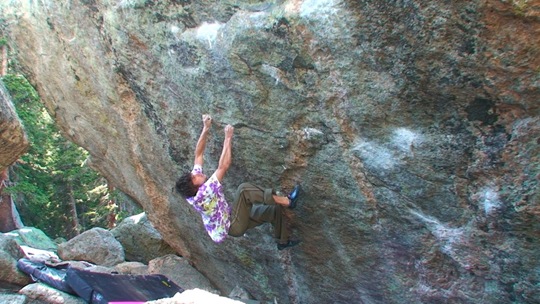 Continuing his strong form, Schaal recently ticked a couple more Colorado high country testpieces off his to-do list with sends of Top Notch (V13) at RMNP and Ode To The Modern Man (V14) at Mt. Evans.  He also did the FA of I Comb My Hair Like God (V11), a cool looking roof problem in RMNP.
For more Phil Schaal, check out a video of him doing Top Notch and ICMHLG on DPM right here.