The 4th stage of the 2009 IFSC Lead Climbing World Cup was held last weekend in Puurs, Belgium with two familiar names taking the top spots on the podium.  For the Women it was Austria's Johanna Ernst winning in a superfinal over Ja-Jin Kim of South Korea and Slovenia's Maja Vidmar.  On the Men's side of the ledger, Czech wunderkind Adam Ondra literally sprinted to victory, topping out the finals route in front of a game Patxi Usobiaga.  Apparently that practice is paying off for Ondra.
Much better than words about the comp; however, is the glut of media available for those interested in seeing what a world class European lead climbing competition looks like.  The Puurs World Cup website has some nice pictures as well as a video archive of the live stream.  In addition, Udini put together these side by side comparison videos of the top 3 finishers which really give you a sense for how differently Adam Ondra climbs when compared to his competitors.
httpv://www.youtube.com/watch?v=X_eu-OGlzeM
httpv://www.youtube.com/watch?v=CdjUP5s9BBY
Women's Results
Johanna Ernst – AUT
Ja-In Kim – KOR
Maja Vidmar – SLO
Angela Eiter – AUT
Charlotte Durif – FRA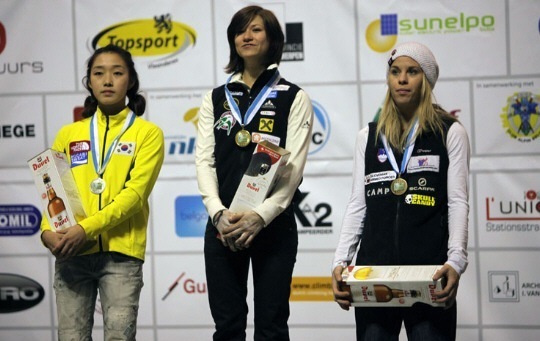 Men's Results
Adam Ondra – CZE
Patxi Usobiaga Lakunza – ESP
Manuel Romain – FRA
Romain Desgranges – FRA
Klemen Becan – SLO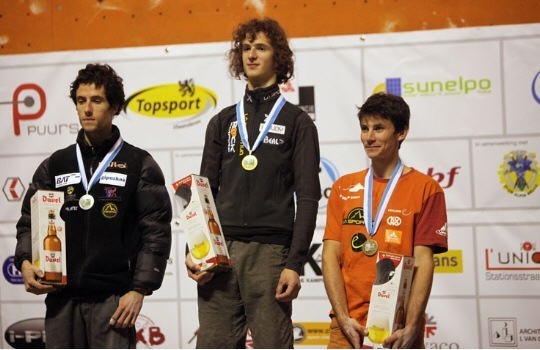 H/T to Joost for the Udini videos.  Speaking of Udini, does anyone know where a person might find the somewhat legendary "wizard" video interview with Dave Graham that was once posted on Udini's site? Thanks to the commenters for their help in finding the video!