I have another interesting topic for discussion tomorrow, but in the meantime here are a few links for your perusal:
If you enjoy salivating over the posts at the Betabase blog, you should consider checking out the blog of Justin Alarcon.  In this post, he spends the day bouldering in The Valley with Beth Rodden and Tommy Caldwell.  Cool stuff.
For those that have read Jon Krakauer's Into Thin Air, you might want to check out the Frontline documentary on PBS tonight entitled "Storm Over Everest". In the documentary, David Breashears & others present during the 1996 tragedy on Mt. Everest return to recount what happened on that fateful day.  It airs from 8 pm to 10 pm CST.
Speaking of David Breashears, FRB has a great interview up with an old climbing partner of his, Steve Mammen.  Steve has some great stories to share about climbing in the Frontrange back in the 1970's including his seconding of the Eldorado Canyon fright-fest Perilous Journey after Breashears got the FA.  He also has insights on what it feels like to climb at age 50 that make me feel like my clock is ticking…
Daniel Woods is really cranking things up as his trip to Europe apparently comes to an end.  His most recent success at Magic Wood, Switzerland was his link of Dave Graham's V11/12 Left Hand of Darkness into his own recently opened Remembrance of Things Past (V14) to create In Search Of Time Lost (V15).  These ascents bring his total of V11 or harder problems to an astounding 60 over his 6 month stay in Europe!  11 of these ascents were V14 or harder!  Jamie Emerson has a bit more background.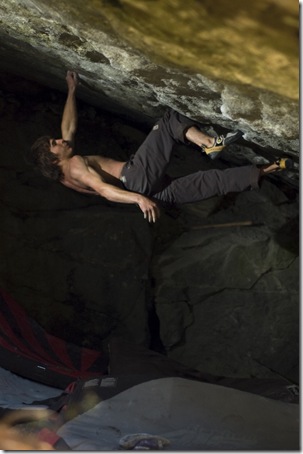 Photo:  David Pearson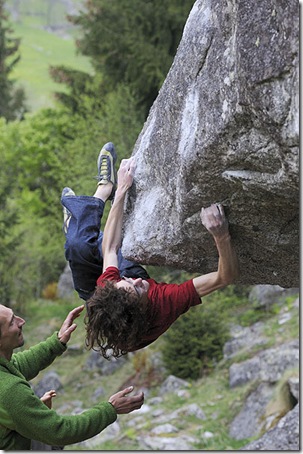 Photo:  Giulio Malfer
I climbed last night!  And it went pretty well!  Ahh yes, the spring season is upon us!  Oh wait….I'm having surgery again next Monday…time to set sights on that potential trip to the Frontrange for Labor Day…