A few general bits of climbing news along with several links to check out what people were up to over Spring Break:
Early last month, Dean Potter completed a 40 foot roof project he called Zen Garden near Moab, UT. He described it as "the hardest roof crack that I know of". Besides the power endurance nature of the climbing, Potter commented about the tree situated below the topout adding a bit of a highball feel to the problem. Fast forward to last week when Matt Segal made the trip from Boulder to give it a try, and he repeated Zen Garden in two day's worth of effort. Check out this photo from Mike Doyle of Matt topping out. Observe the spotter situated in the tree. You can see video of Matt's send in the MVM premium section.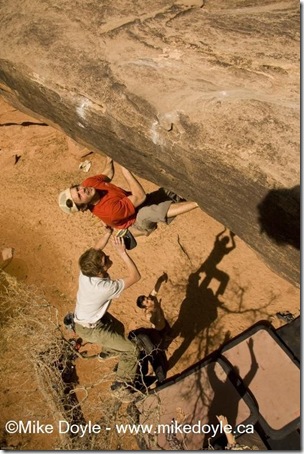 Photo: Mike Doyle
Kevin Jorgeson pulling down at the Gravity Brawl – Kevin took 2nd place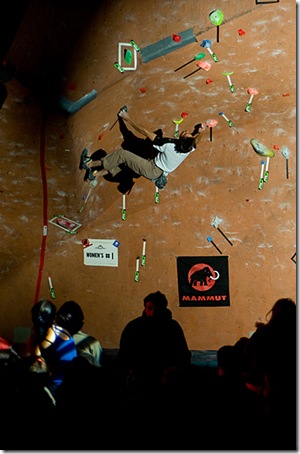 Photo: Tim Kemple
Ty Landman

spent spring break in Southern California and Red Rocks with

Harry Robertson

and others. Most notable was Ty's repeat of Matt Birch's

Somewhere in Time

at the Tramway in SoCal that was originally graded V14 and proposed to be downgraded to V13 by Daniel Woods. Ty logged it as hard V12. Apparently Matt is on his way back to the Tramway to try and add a sit start, should be sick.
Ty bouldering at Red Rocks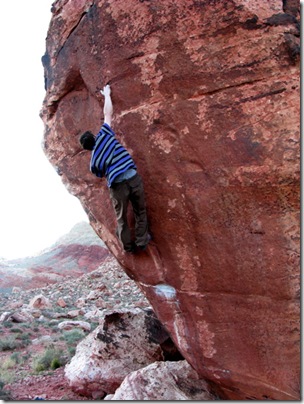 Photo: Colette McInerney