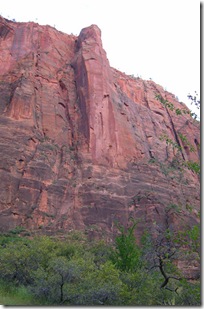 For such an intriguing ascent, the news of Alex Honnold's April Fool's solo of the 1200 ft. 5.12+ Moonlight Buttress in Zion is coming out at a snail's pace. Almost a week after I posted having read a small tidbit on the send in the Climbingnarc.com forums, (and reading hints from Peter Beal and MVM) Alpinist finally has the full story straight from Honnold himself. To me the most notable part about the ascent was not the continuous sections of 5.12 tips liebacking required, but rather that Honnold still had songs left on his iPod Top 25 playlist when he topped out due to his blazing fast 83 minute ascent of the 1200 ft. route!
Maybe this news will be the push he needs in his Round 2 matchup with Tommy Caldwell in the Tournament of All Things Climbing! (which he is losing quite badly…)
Thanks to Luke for the update.