And now for some news and other tidbits…
Ryan Olson has a very large gallery of images now up from his recent month in Hueco. Included are some pictures of Paul Robinson on Nagual.
Hayden Miller recently repeated Dave Marquess's Bloody Arete Sit (V10) at Ute Pass, CO. He also recently did the first repeat of Marquess's Daddy Fat Sacks (V11/12), also at Ute Pass. Ute Pass seems to be outside the range of most Frontrange climbers, but it looks like a good area for those in the Colorado Spring area. You can read Hayden's thoughts on Bloody Arete on his blogsite and then check out the video below from Tojo Risen:
I speculated earlier this month that there might be some footage of Dave Graham's recent visit to Arkansas and the footage has now surfaced thanks of course to Chad Greedy. You can see Dave doing the FA of Southern Lean (V12) among other problems in the MVM premium area.
A few weeks ago there was a competition held at the Boat Rock are in Georgia. Click here for results and more information.
Chris Sharma and Emily Harrington were crowned national champions during this past weekend's SCS Nationals comp at the Momentum Climbing gym outside of Salt Lake City, UT. Back from Spain, Sharma bested Jon Cardwell, Dave Graham, Joe Kinder and others to take the top spot for the men. Harrington bested Paige Claassen and Tiffany Hensley en route to victory for the Women. You can get a recap of the comp from a routesetter's point of view at routsetter.com.  Look for video soon at MVM. Full results for both difficulty and speed can be found at SCSNationals.org. Full Men's Results | Full Women's ResultsChris Sharma at SCS Nationals

Photo: John Evans
Wade David recently updated his

Movies page

. Some of the cooler new videos feature

Jeff Sillcox

on the

FA

of

Mandala Direct

(V12) and footage from the recent "Gun Show" comp at The Spot in Boulder.

Daniel Woods has done a 1 day repeat of Bernd Zangerl's

New Base Line

at Averstal, Magic Wood, Switzerland. Originally graded hard V15, Daniel felt it to be V14, and Dave Graham comments on his

spraysheet

that to him it seemed "normal 8b+ [v14]". This is the problem's 6th, and fastest, ascent

after Zangerl, Fred Nicole, Dave Graham, Franz Widmer and Christian Core. This still leaves Graham's two proposed V15s in Switzerland

Story of Two Worlds

and

From Dirt Grows Flowers

unrepeated and in need of Mr. Woods's attention.
Dave Graham on New Base Line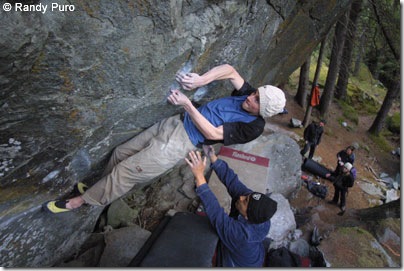 Speaking of Bernd Zangerl, he recently opened another problem that he is calling one his hardest ever.

Anam Cara

, located in Silvretta, Austria, is noteworthy for being a mere 4 moves long, and he has proposed the grade of hard V15. When asked why he focuses on problems of such a short and intensely difficult nature,

he offered these thoughts:
…I'm simply fascinated by really difficult single moves. On a 20 move Font 8c I can usually immediatly do all the moves, so it's just a question of stamina… and this motivates me less at the moment. I like trying things where in the beginning you don't even know if it's physically possible.
Bernd Zangerl on Anam Cara – Photo Bernd Zangerl Collection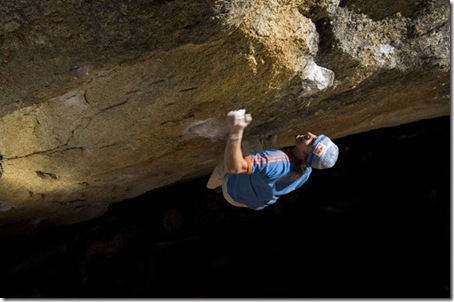 Don't forget about the MVM Subscription contest going on now. Just leave a comment on the post and you are in the running for 1 month of free videos!
Have local climbing news you'd like to share, send it via the Contact Page!