After a prolonged battle, Jonathan Siegriest has completed his hardest redpoint to date with a repeat of Chris Sharma's Biographie (5.15a)1 in Céüse, France.
Biographie was immortalized for many of us in Dosage I as we saw the process Sharma went through to establish what was the first 5.15a in the world.  In fact, that video continues to be popular to this day thanks to Big Up posting it to Youtube a couple years back.
Click the image to watch Sharma on the FA of Biographie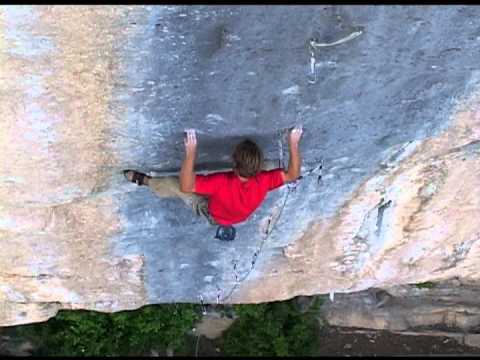 Writing on his blog at the beginning of March, Siegrist talked about his motivations for going to France to work this route:
I've been dreaming of my return ever since I left 2 years ago, and furthermore, I've been anxiously planning for an objective. Since last December I've been approaching my climbing differently.
buy ventolin online https://www.clerkenwellislingtonclinics.co.uk/wp-content/languages/themes/new/ventolin.html no prescription

For the first time in my climbing life I solicited the help of a trainer. I've quite dramatically changed the way I train – finally trying some new things. I've adjusted my lifestyle, and like I once did many years ago – in pursuit of my first 5.14s – I've anxiously looked ahead and worked hard towards a lofty goal.

…

So, as some of you know, I, in essence, came to France to climb Biographie, or as many Americans know it, Realization.
buy fildena online https://www.clerkenwellislingtonclinics.co.uk/wp-content/languages/themes/new/fildena.html no prescription

I can remember the first time that I saw the route – it is truly magnificent. I was shocked to see that such a bold and impressive, seemingly perfect line exists. Add to that, the historic significance of this climb not to mention its unique and brilliant holds and movement — it really is a proud route. I trained to improve my climbing, not necessarily for this climb specifically, but I had it in mind all throughout. I've been here in France for a little more than a week, and already it has been an exciting journey.
On Sunday, Siegrist was able to realize the fruits of his dedication, training and talent to clip the chains.
buy furosemide online https://www.clerkenwellislingtonclinics.co.uk/wp-content/languages/themes/new/furosemide.html no prescription

 An assortment of Instagram-ing ensued:
 Sharma had originally called his route Realization as it was an extension to the existing route Biographie, and renaming a route like this is fairly common in the U.S.  However, the route Biographie as it existed in 2001 was really just an intermediate anchor to the full route that Sharma ended up doing.  That intermediate anchor has since been removed and most people seemed to want to call the full line Biographie anyway as that is the custom in the area, so that is what we'll go with. ↩