Someone apparently flipped the low gravity switch last week in Fontainebleau…
Only a couple of days into his first visit to the Horse Pens 40 of France Font, Jimmy Webb wasted no time putting his other-worldly compression skills to work by making a 1 hour ascent of Khéops Assis (V14) according to his 8a scorecard.
Webb wasn't the only climber to make a fast repeat of Khéops Assis last week as Sean McColl also managed a 1 day ascent of this boulder. In a sign of the times, his ascent was aided by the fact that he could watch footage of Paul Robinson trying the line while he was actually at the boulder:
I was happy to say that my flash go was very satisfying. I did the first 5 or so moves and fell exactly where I thought I might, from sloper to sloper. I didn't even come close to doing the move, but it still felt good. I then figured I'd just try that one move until I got it. I spent the next 20 or so minutes trying to figure out that move but after 7-8 tries, I just couldn't do it. After that many tries, I sat down and studied Paul's movie again. I was just looking for where he put his right foot for the hard move. After watching the movie for probably 5 minutes, I suspected that he was putting his heel unusually close to his left foot right on the arête.

I saw how I assumed it would work, and put my shoes on pretty fast. The first time I tried the move with that magical heel, I did the top! I was psyched and as I was running down the backside of the boulder, I already knew that Kheops Assis was totally possible, and today!
Also enjoying the prime conditions in Font was Nalle Hukkataival. In a single day he did the FA of a recently cleaned project he's calling Realist (V14) and he repeated Gecko Assis (V14).
Nalle Hukkataival on his new problem in Font called Realist (V14)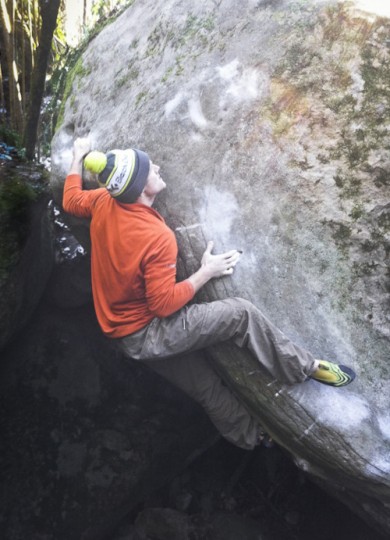 And lastly, Guillaume Glairon-Mondet repeated Satan i helvete bas (V14) according to UKClimbing.
So yeah, that was a pretty good week, no?