It was another productive weekend at Nicky's Boulders near Estes Park for Daniel Woods.
buy flexeril online www.mobleymd.com/wp-content/languages/new/flexeril.html no prescription

 Woods took to his Facebook page to describe what went down:
Yesterday, I was able to complete one of the coolest boulders I have done in a while at the Nicky's boulders aka Elkland. The line goes out a 35 degree overhanging bulge. There are two near parallel rails leading to a flat hold at the 3/4 point. The style is wide compression moves between the two rails with involved heel hooking and edging.
buy doxycycline online www.mobleymd.com/wp-content/languages/new/doxycycline.html no prescription

Once you arrive to the flat edge, you then set up for the giant iron cross move out right to a flat sidepull. From here the moves are not so hard, but you have a potential 25 foot fall onto rocks and logs and the rock quality becomes not so good. This just adds in an adrenaline packed topout.
Daniel Woods on Mind to Motion (V14)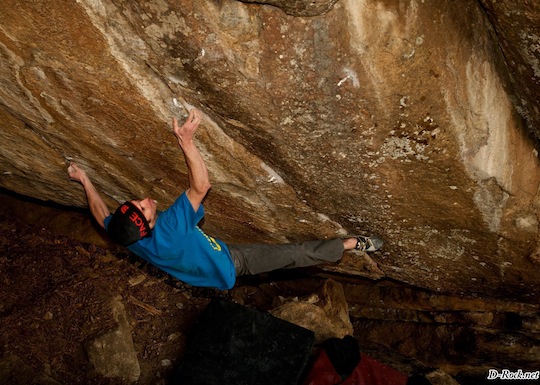 Photo:  Dariusz Kuczynski
The new problem is called Mind to Motion and Woods has suggested a grade of V14 for the line.  As seems to be the norm these days for hard boulders put up in Colorado, Woods is sure to credit Dave Graham for the vision to see this line:
Dave Graham brushed it up, then showed me some photos and I was instantly psyched. His eye for bouldering is truly one of the greatest out there and I am priviledged to be able to learn from the master.
This ascent comes not long after Woods made a one day repeat of Graham's Memory Is Parallax (V14) at Nicky's Boulders and the FA of Mirror Reality (V14) in RMNP.  ABS Nationals, the Hueco Rock Rodeo and several other trips loom in Woods' near future so it will be interesting to follow his continued progress.