If there is one recurring theme about my climbing you probably picked up from reading this site over the years is that I get injured.  A lot.  In fact, injury was the main impetus for my starting this site some 4 years ago.
While most people spend their winters training and getting strong for the upcoming year of climbing, my recent winters have mostly been spent bemoaning my luck and resting various injuries.  This past winter was looking to be a repeat thanks to a lingering finger issue, but I decided to take a stand against my fragile body.  I decided to just keep climbing.
Now, by "just keep climbing" I don't mean that I go into the gym every session and climb a muerte with total disregard for how things are feeling.  Instead, I am doing something totally radical and actually listening to my body and adjusting what I'm doing based on how things feel.  This has allowed me to engage in somewhat of an active recovery that has improved my finger issue maybe 50% and given me some modicum of fitness going into the spring season for the first time in several years.
I spent the month of February bouldering in anticipation of a trip to LRC in Tennessee which was successful on the climbing front, but not so much on the injury front.  Messing around at the end of the trip I managed to strain or tear a ligament in my knee!  Oops…
Bouldering at LRC prior to exploding my knee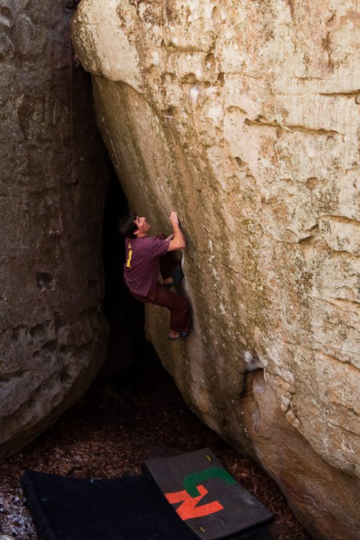 In 2009 I had the same thing happen to my other knee for which I took at least 6 weeks off from climbing of any kind.  This time I just switched my focus to routes, wore a knee brace and was content with the fact that I wasn't going to be able to drop knee anytime soon.  This effort culminated in a couple of successful trips to the Red River Gorge that saw me redpoint more or less my hardest route ever.  Thanks to the 37 of you in the latest poll who thought this gave me a better month of March than Adam Ondra 🙂
As April rolls in and my desire to drive 500 miles to project things wanes I'm back in bouldering mode at the local spot:  Devil's Lake.  Usually you are lucky to see even 1 other person out bouldering at the Lake, but this past weekend I lost count there were so many psyched people roaming around.  Some were even using the little West Bluff guidebook I put together a couple of years ago.  It may be time to update that thing…
The day was highlighted by sampling some of the finer problems along the West Bluff.  First up was Double Elephant, a tall-ish V4 over a landing that gets worse the higher you get on the problem:
Tony executing the crux of Double Elephant.  Try this problem but do not botch this move!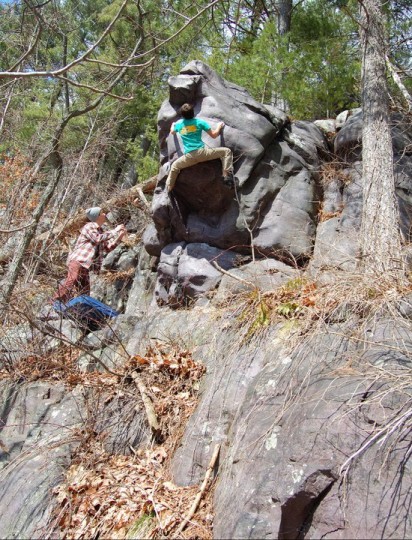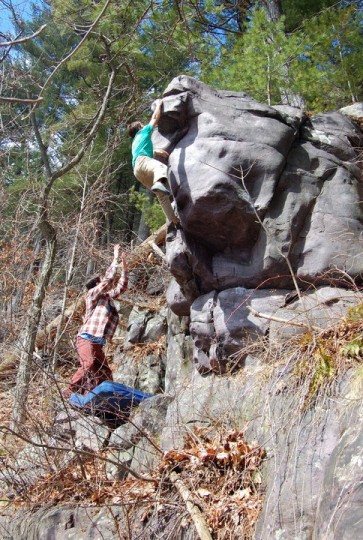 Topping out Double Elephant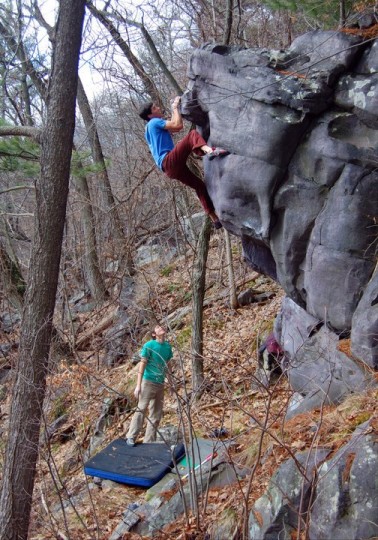 Photos: Sarah
After that, we made our way to the main event for the day which is a problem called Beautiful Soup (V8).  This problem revolves around using a hatefully sharp crimp to make a long move to a worse than it looks ledge.  Each attempt peeled back another layer of skin until both Tony and I were bleeding.  I basically gave up at that point, but I taped up my finger to play around a bit more in anticipation of a return trip.
The key to holding the crimp on Beautiful Soup??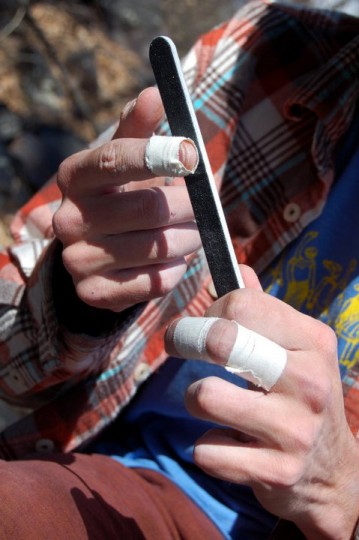 Photo: Sarah
With any expectations for the day lifted I pulled back on at one point and somehow found myself having stuck the crux move.  A few tenuous moves out right to finish up and I had done the problem.  Saying that I was psyched would be an understatement.
The crux move of Beautiful Soup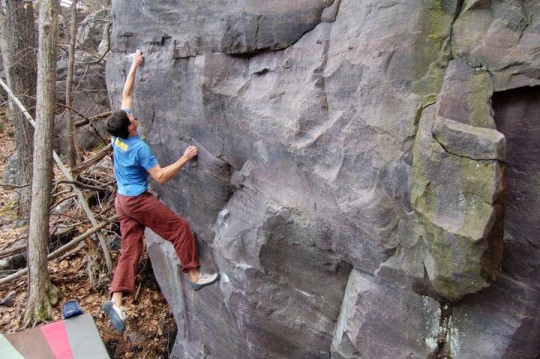 Photo: Sarah
The moral of the story (for me at least) is that while injuries suck and resting is generally the only sure way to get 100% healthy, time in life is limited and sometimes you have to be satisfied feeling 80-90%.  Besides, you'd be surprised what you can still get done when you're not feeling your best.  Now if I could just get this shoulder tendonitis to stop flaring up…