Paul Robinson is back in Switzerland for a short stint before finally returning to the States.  His main goal for this portion of his journey was to repeat Dave Graham's The Story Of Two Worlds (V15) on the Dreamtime boulder in Cresciano.  Story, which adds a difficult sit start to Toni Lamprecht's The Dagger (V14), was first done by Graham in 2005 and given a tentative grade of V15 although some have speculated it may well be V16 given that it had not been repeated*.
Not repeated until today that is.
After an unfortunate dab on an easy exit move invalidated a send over the weekend, Paul returned today to finish the Story of Two Worlds for its 2nd ascent and in the process achieved one of his long-term goals.  This ascent gives him some 6 V15 or harder boulders in just the past 12 months!
For reference, here is some video of Carlo Traversi trying a portion of the bottom section of the problem:
*Story was thought to have been repeated last year by Dai Koyamada although it turns out he started the problem a few moves in
Update: Thanks to an alert reader in the comments who pointed out that you can see footage of Robinson on The Dagger here
Update #2: On his 8a logbook Robinson gave the problem a grade of V15 noting that it is at the "upper echelon" of the V15 grade.  He also mentioned that he plans to retroactively adjust the grades of other problems he's done based on Story being, as Dave Graham put it after his FA", "the new standard".
Update #3: Here are a few pictures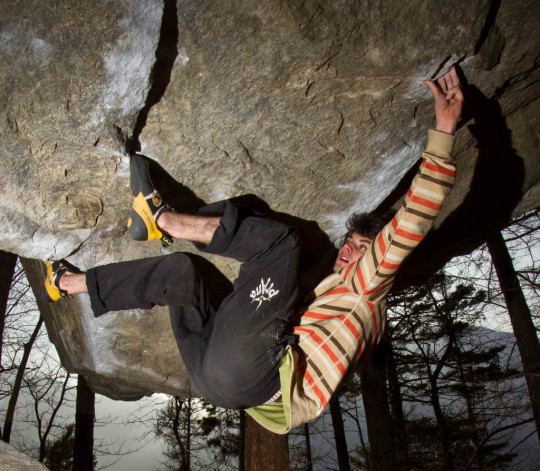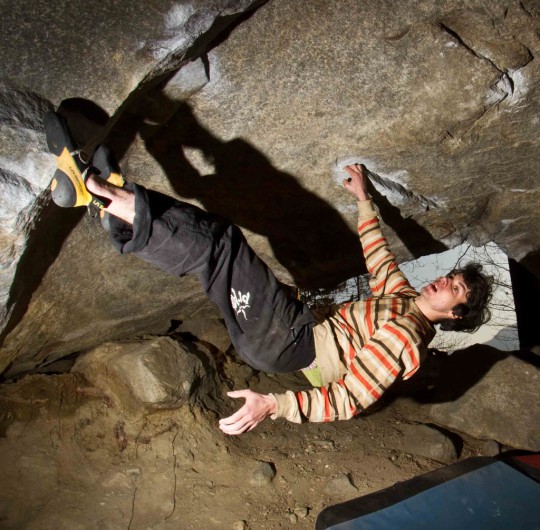 Photos:  Marc Stellbogen
Update #4: UKC has some words from Paul regarding the experience and how he came to the V15 grade:
In brief, I found that really nice new beta which made a hugggeee difference. Instead of the end being a crux in itself it became a lot easier. My estimate on the breakdown of the climb would be soft 8C to throwing of the toes followed by soft 7C+ or maybe even hard 7C!!!