A few tidbits of news on this Wednesday…
The young French superstar Enzo Oddo, who recently made news with his repeat of Ambrosia, finished his trip to Bishop in fine style.  According to his blog he repeated the highball This Side Of Paradise (V10) and did the 3rd ascent of Kevin Jorgeson's highball The Beautiful And Damned (V13), the latter "king line" coming on the last day of his trip.
Enzo Oddo rapping down The Beautiful And Damned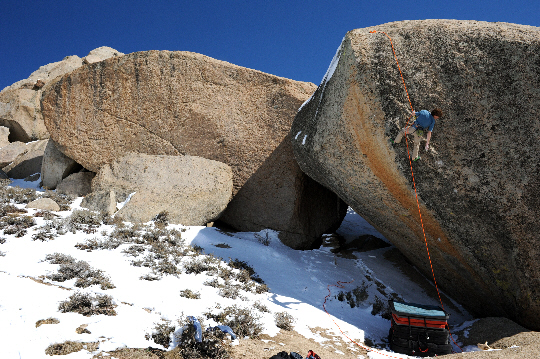 A bit to the east in Hueco Tanks, Jason Kehl opened a new 25-move roof problem at the southern tip of East Spur called The Seventh Circle. According to this report on Climbing.com Kehl had been working the line over the course of the past 3 seasons.  No grade has been suggested, but the line looks sick so who cares, right?
buy zithromax online https://rxnoprescriptionrxbuyonline.com/dir/zithromax.html no prescription

Congrats to Jason for sticking with it and getting it done.
Also in Hueco for the past couple of weeks has been Dave Graham who, according to his 8a scorecard, did the first repeat of Daniel Woods' Crook By The Book (V14).
And since I haven't found time to mention it anywhere else, Daniel Woods and Katja Vidmar won their respective Mutant divisions at the recent 2011 Hueco Rock Rodeo.  I have no idea what Woods' score of 7630 means but I'm guessing he has a pretty good circuit of problems to do there…
buy zydena online https://rxnoprescriptionrxbuyonline.com/dir/zydena.html no prescription

Update: Here's a video you can download of Woods' day at the Rock Rodeo.  4 V13s in a day…not bad.
Update #2: More on Oddo's ascent of The Beautiful And Damned