While thousands of you were reading through Prana's excellent retrospective on Chris Sharma's climbing career Sharma was out adding a new chapter to his legacy in Santa Linya, Spain.  Daila Ojeda reports on her blog that he did the FA of a route bolted by Dani Andrada which he is calling Catxasa at a suggested grade of 9a+ or 5.15a.  According to 8a.nu the route is a "new variation start" to La Fabela (5.14c) and is some 150 ft. long.
This ascent comes on the heels of another new 5.15 Sharma established at Oliana back in December so it would appear that the season is off to a good start.  Says Ojeda in her blog entry, "Looks like the christmas holidays in Canary Island was really nice for Chris!"  I wonder what could be next…
Here's some footage that features Sharma on Neanderthal, another of his 5.15 FAs at Santa Linya:
Outdated topo for the big cave in Santa Linya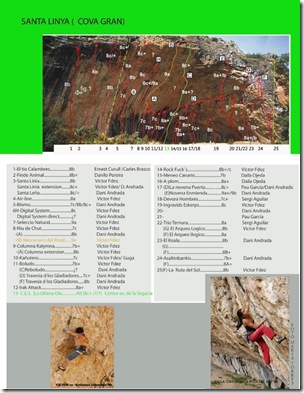 For more information on the climbing in Santa Linya and the entire region surrounding Lleida, Spain is the excellent looking Lleida Climbs by Pete O'Donovan and Dani Andrada.  Read more about it here and here.