After spending the end of last year recovering from a ruptured appendix, Canada's Sonnie Trotter is back in top form again with two notable ascents in the past couple of weeks.
First up was his FA of Sugar Daddy (5.14), an all gear direct start to Big Daddy Overhang (5.12b) in Squamish, BC.  Writing on his excellent blog Trotter describes the climb like this:
Back in Squamish, about two weeks ago, I climbed a project of mine which I was really happy about.  An overhanging arete.  It's the sort of feature you look up at and WISH it had holds on it.  This one did, but barely.  I tried the line last spring, and found the tiny crimps that linked it all together. It's incredible movement, knee drops, slopers, heel hooks, lots of squeezing, and a very tedious mantle.  I tried it a few days and was able to link it once or maybe twice, but then it got hot, summer hit, and then my appendix ruptured at the very end of August, which ruined my fall season.  And so it sat all winter.  This spring I went back, and TR'd it.  I was pleasantly surprised to find that I was much stronger than last year.  I did the moves quickly and linked it twice in a row on my second day.  I guess the bouldering paid off.   I reckon the line is a 5.11 to a V10/V11 to a 5.12b.
Following up on that success, Trotter returned to Joshua Tree in southern California where, according to UKClimbing, he nabbed the likely 2nd ascent of the brutal finger crack Stingray (5.13+) which was first done 22 years ago by Hidetaki Suzuki.  Trotter had blogged about his attempts on the line back in February but the friable nature of the footholds and the "metric tonne of more lock off strength and a shit pile of pain tolerance" necessitated more visits to attempt the line.  According to the email he sent UKClimbing, Trotter felt like Stingray was the 2nd hardest crack he's climbed with the hardest presumably being Squamish's Cobra Crack (5.14).
Stingray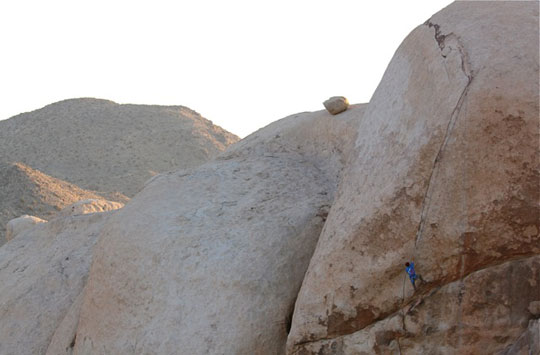 Update:  Trotter has more about the Stingray send, including pictures from Andrew Burr, in his latest blog post