In addition to my obvious obsession with climbing, I've been obsessed with the "sport" of poker for quite some time now as well.  While my interest in losing money actually playing has waned in recent years, I still find time to watch various poker programming when it's on TV.
One of the more popular poker shows out there is a show called High Stakes Poker.  HSP features some of the world's most well-known degenerate gamblers putting hundreds of thousands of dollars of their own money on the line in a high stakes game of poker.  A climbing equivalent might be like if cameras were on hand to watch Sharma, Graham, Robinson, Ondra, Hukkataival and Woods session a boulder problem.  Obviously there is no money changing hands in the climbing example, but what attracts most people to a show like HSP is the chance to see their favorite players bantering amongst themselves while they ply their craft.  Although seeing how different players react to losing massive amounts of money can be interesting.  But I digress.
Since winning and losing large sums of money playing actual poker isn't enough action for the types of degenerate gamblers that appear on shows like HSP, the players often make side bets on any number of topics.  Well known examples of past side bets in the poker world include bets about weight loss, standing in the ocean for 18 hours and a man getting breast implants.  In that same vein, Tom "durrrrr" Dwan bet Phil Ivey $1,000,000 in last week's episode of HSP that Ivey, a carnivore, couldn't go a year without eating meat of any kind.  If Ivey makes it a year without eating meat Dwan owes him a million otherwise Ivey has to ship Dwan  a million.  Simple as that.
Phil Ivey and Tom Dwan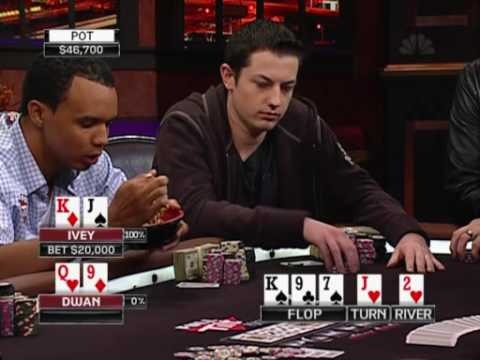 The idea of being paid money to give up something you enjoy got me to thinking about how much money it would take for someone to give up the sport of climbing for a year.  No climbing.  No hanging out at the crag.  No eating pizza at Miguel's.  No reading ClimbingNarc.com.  Nothing.
I posed the question to Paul Robinson who rightly pointed out that for a large enough sum of money 1 year would be tough but very doable.  You could simply take the money you got for missing that year and spend the rest of your years travelling around climbing.
Perhaps a better question would be this:  how much money would someone have to pay you to give up climbing for the rest of your life?   Obviously this is hypothetical since climbers tend to have more respect for money than the degens on HSP, but it's an interesting question nonetheless.
Personally, I could be bought for a relatively small amount of money.  I spend half the year not climbing for free anyhow, so getting paid to give up on the other half of the year for the rest of my life would actually be liberating in some sense.  I could take the money and do more productive things with my time, like play more poker.
How about you?  Take the poll and let us know in the comments how much you value climbing.
[poll id="98″]