Boy did I pick a bad day to stay home from Devil's Lake yesterday.
Wisconsin Bouldering Legend* Nic Oklobzija was in town for the day, and he cleaned up in a big way at the West Bluff.  He made quick work of the 2nd ascent of Moj (V8) and did the FA of the so-called Power Plant project at a surprisingly low grade of V6/7.  Most noteworthy, however, was Nic's fast 2nd ascent of The Keymaker over 6 years after it's lone ascent by Brian Sandona.  He registered it on his spraycard as V11, commenting that it could "be anywhere from 9 to 11".  Since Nic is basically the only person other than Brian to even attempt the top moves, it will be interesting to see what sort of consensus can be reached after more people (hopefully) climb this problem.
Here are a few pictures of Nic on Keymaker courtesy of Remo: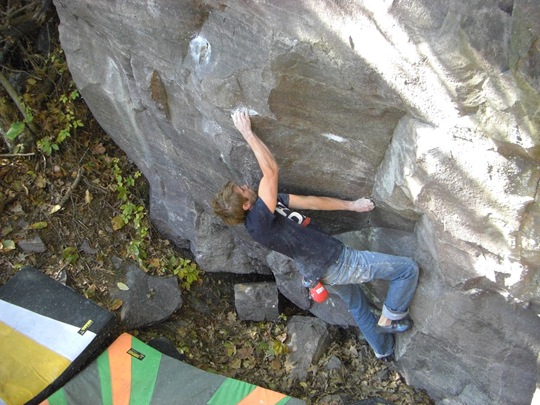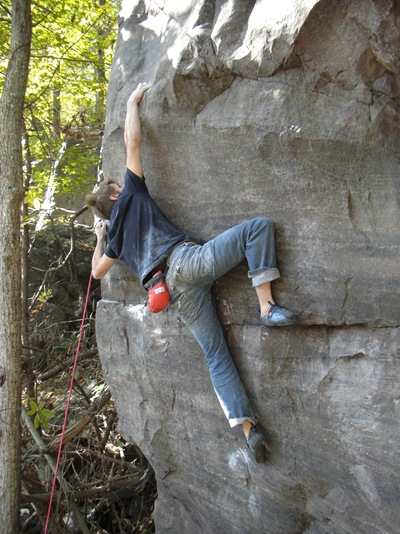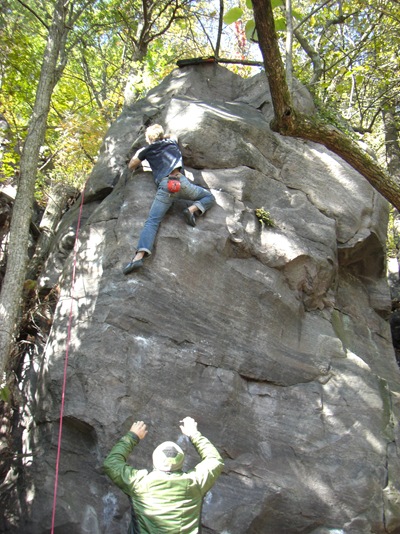 Props also go out to John Freaney for making a fast ascent of Massive Vertigo (V8), also on the West Bluff at the Lake.  I've never been to that problem, but I'm very psyched to do so after seeing pictures and this video of his ascent:
[youtube http://www.youtube.com/watch?v=awN0vFuDzgQ&w=540]
If you are looking for a high quality circuit of hard problems to climb on in the Midwest, all of these problems can be found along the West Bluff at Devil's Lake:
Keymaker (V11)
Alpine Club (V9)
Beautiful Soup (V8)
Moj (V8)
Massive Vertigo (V8)
Anchorpoint (V7, although MUCH easier if you are tall)
Jenga (V6)
Another weekend of beautiful fall weather is coming up.  The clock is ticking…
*To clarify for those that don't know, Nic was jokingly given the title of Wisconsin Bouldering Legend after his spring trip where he dispatched two of the harder problems at the Lake.  In most states the ascent of two sub-V10 boulders would not be that noteworthy, but since this is Wisconsin and barely any hard boulders are ever climbed outside, proper recognition of Nic's strong work was required.