Rocky Mountain Highball is an excellent looking climbing movie that has been in the works for several years now.  In case you couldn't guess, the movie is going to prominently feature highball boulder problems from all over Colorado's Frontrange as well as interviews with the climbers who climb them.  In anticipation of the April 27th premier in Boulder, CO, a new Rocky Mountain Highball website has been unveiled and it's pretty slick.  Here is a partial synopsis of the movie from the site:
Rocky Mountain Highball documents the many facets of this niche sport by interweaving numerous classic climbs in Colorado, with interview footage of the leading figures in the climbing world.  Having shot more than 70 different climbs with over 35 athletes, this film proves to be a robust and unique creation from Yama Studio which will be a solid asset to any outdoor enthusiast's film library.
The site has a pretty cool feature on the "Cast" page where you can see brief snippets from the movie for several of the climbers.  It also gives you a sneak peak at the all-star cast of climbers that are in the movie.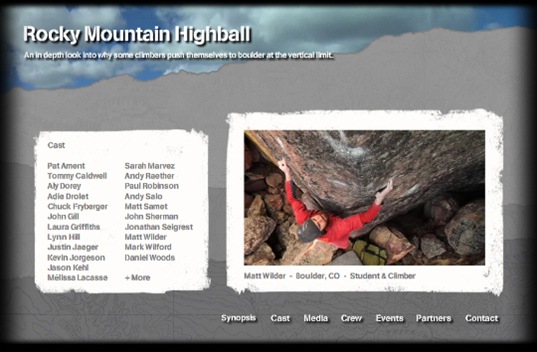 In addition you can sign up to receive updates on RMH, and you can also see or download the trailer on the Media page.  Here it is for your viewing pleasure:
On a scale from 1 to 10 I'm at about a 65 as far as excitement goes for this movie.  I always get nervous when I see climbers talking in a climbing movie, but I have faith that the guys at Yama Studio know what they're doing.  Stay tuned for more info as the release draws closer.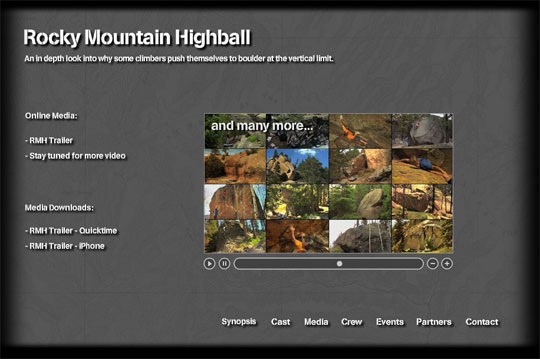 Thanks to Sock Hands, a professional V7 climber, for pointing this new website out!