Our trip to HP40 in Alabama wasn't a complete wash, but as far as climbing was concerned it sure felt like it.
buy clomid online https://noprescriptionbuyonlinerxx.net/dir/clomid.html no prescription

 Before we left I didn't feel all that prepared, and it showed once we started climbing on the beautiful first day of 2009.  Last week I posted a short list of problems I wanted to send, but a lack of enthusiam, lack of strength and lack of skin combined to prevent me from sending any of the problems.  Here is the rundown:
The Flow (V7) – Epic fail – I made a mistake in not trying this sooner in the day.  For whatever reason I was having a hard time getting the key toe hooks to work in my favor which led to a lot of dejected slumping onto the pads.
buy zovirax online https://noprescriptionbuyonlinerxx.net/dir/zovirax.html no prescription

 On the bright side I got to spend some time working it with a cool guy Ben from Denver which gave me plenty of time to talk shop about bouldering in the Frontrange.
Mortal Combat (V3) – Did not attempt – Much taller than I remembered!
Slushpuppy SDS (V8) – Did not attempt (too crowded)
It's A Natural (V7) – Did not attempt – Holds much smaller than I remembered!
The Thief (V7) – Epic fail – I only half-heartedly tried this as I didn't want to put in a ton of effort unless it felt doable…which it didn't.
Unfortunatley there was not going to be any chance for redemption as it rained the night of the 1st.  After waiting it out for half of Friday we made the decision to head home as the forecast for Saturday called for more rain.  A bit disappointing, but I think everyone had a fun trip nonetheless.
I also failed on the picture taking front.  Having never climbed in the dead of winter I was a bit surprised at just how short the days can be.  We didn't start climbing until almost 11 am and before I knew it the sun was going down and I had barely taken the camera out of the bag!  Luckily, Mrs. Narc picked me up and helped out with a few shots of her own.  Here are a couple of shots from our day of climbing at HP40:
Mrs. Narc climbing sans "boot of doom"!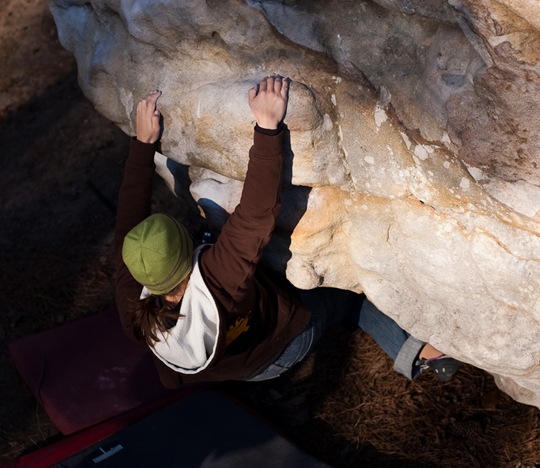 Danny hanging out near the top of Mainline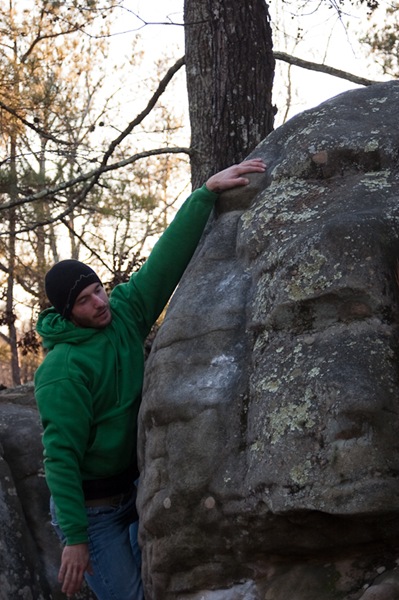 Sarah on Lowdown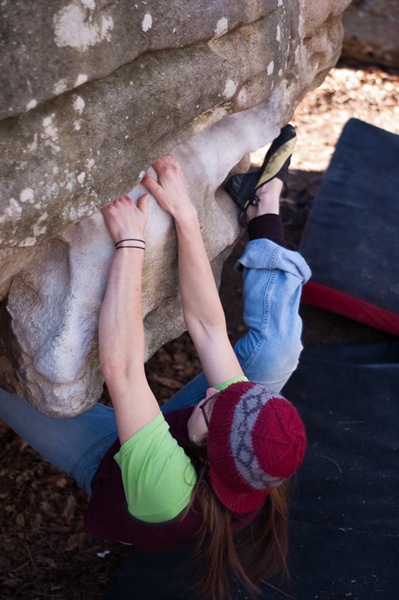 Narc feeling The Flow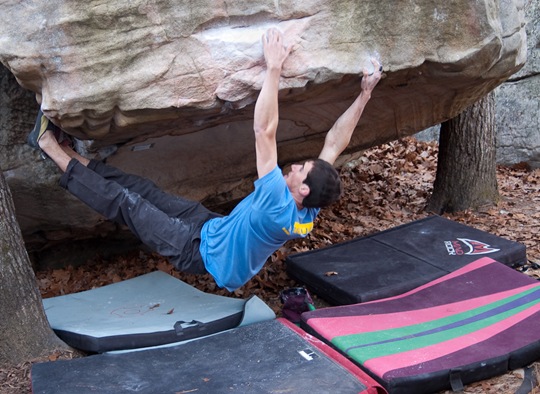 …NOT