A few weeks back, Skyler Weeks opened a new dyno at Clear Creek Canyon, CO called Zion.  You might be asking yourself, who is Skyler Weeks and why would I care about some dyno in CCC?  It turns out that Skyler Weeks is the world record holder for dyno-ing, so when it took him 76 days to stick this dyno it raised some eyebrows and caused Jens at 8a.nu to wildly speculate that Zion must then be V16.  Weeks' efforts were captured on film by Chuck Fryberger for a segment in his upcoming film, Pure, which is how the news was first publicized.  Remember this last part, it will be important later.
Skyler Weeks sticking the dyno Zion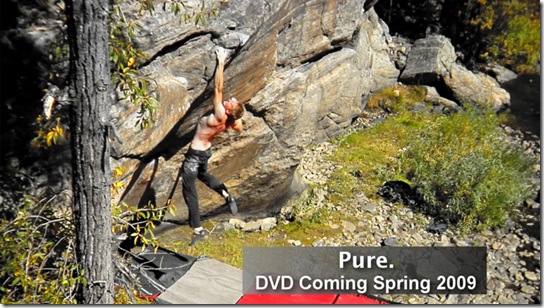 Photo:  Chuck Fryberger
Obviously, when someone comes out with news of a new, hard problem in the Frontrange of Colorado it is going to draw some interest from people looking to repeat it.  With that in mind, Mark "Cookie" Hobson went to Clear Creek Canyon last week with filmmaker Brian Solano to check out Zion.  Hobson nearly flashed the line and sent it within a few attempts immediately calling into question the grade of the problem.  Hobson felt like the line was in the V8 range, not V13 or V16 as previously suggested.  Solano captured Hobson's send on film and it was to be posted on MVM in short order.
Mark Hobson sticking the dyno Zion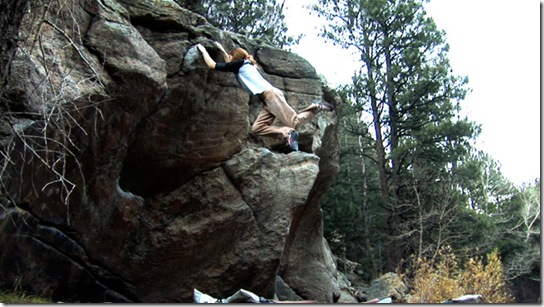 Photo:  Brian Solano/MVM
Now, the point of this post is not to debate the difficulty of Zion.  As has been pointed out in a discussion on 8a.nu, the grade is irrelevant and the realization of this climb is still a great personal achievement for Weeks.  The point of this post is something most people probably haven't even noticed:  the video of Hobson sending Zion was quickly and mysterioulsy removed after briefly being posted on MVM.  The Hobson footage has been replaced by a brief news blurb.
To me, this story exemplifies the ongoing debate within the climbing community over the effects commercial considerations are having on how news is reported.  It doesn't take an episode of CSI to speculate what happened to the Hobson footage. Certainly sponsors and filmmakers have their reasons for sharing/withholding information, but the question must be asked:  How much influence should sponsors and/or filmmakers really have?  It seems that nowadays they have an impact on the distribution of not only the news they're directly involved with, but also in related news being distributed by others.