When I received the 2005 BS Productions film Karma in the mail the other week, I wasn't quite sure what to make of it.  I am normally all about big name problems getting sent in the movies I watch over any kind of storyline.  I like to get the full visual of the big sends I have been reading about.  However, knowing that Karma was entirely shot in Nepal made it a sure thing not even I would recognize any of the problems getting climbed.  Throw in a lesser known (to me) cast featuring Adam Stack, Justin Bourque, Lizzy Asher and Janet Bergman, and I wasn't so sure I would like it.  As usual, I was wrong.
The film gives the viewer a taste of the rock climbing around the very famous, and very mountainous Lukla region of Nepal as well as providing insight into the lives of impoverished locals.  Working with a group called Porters Progress, the climbers are there to do outreach work with a small group of local porters while exploring the climbing at the same time.  The scenes go back and forth between obligatory shots of surprisingly fun looking climbing and stories about the lives of the porters that the climbers have sort of adopted in a "Big Brother, Big Sister" type of fashion.
Lizzy Asher in Nepal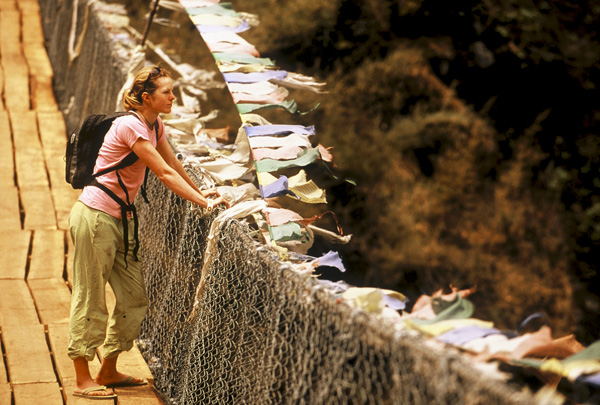 Photo:  Tim Kemple
I was concerned for awhile that there was not going to be a logical connection made between the climbing scenes and the porter scenes.  I liked both sets of scenes, but I really wanted to see how they were going to connect the two without being too contrived.  To the movie's credit though, as it progressed it drew logical comparisons that helped tie together both story lines very nicely.
Adam Stack on a cool looking Trad line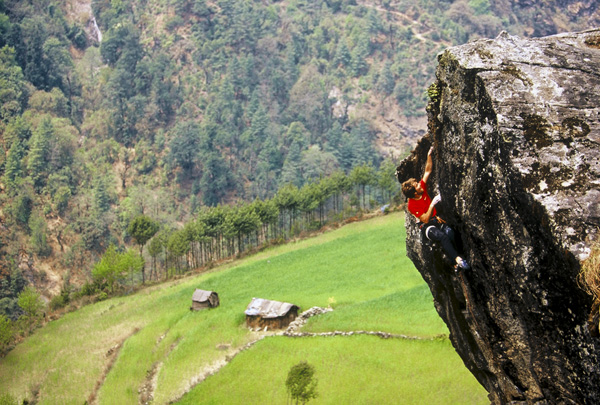 Photo:  Tim Kemple
Overall, the combination of gorgeous vistas, solid climbing and an intriguing message about the plight of local Nepalese porters made for an enjoyable movie (there was a certain scene that involved Tim Kemple, a (temporarily) live chicken and a knife that I could have gone without but now at least I know it is true that if a chicken is missing its head it can still run around).  If you are looking for a movie that does a nice job of blending a good story with interesting climbing, Karma is definitely a good option.  Plus, you can now pick up your own copy of Karma for the reasonable price of $10 plus shipping through the BSProductions Blog or by clicking this link directly.
Check out the trailer:
[youtube=http://www.youtube.com/watch?v=83lWMZ6embw]
Also, the soundtrack was pretty tight as well.  Check out this post from earlier this year to find out more on how to get your own copy of the soundtrack to Karma.
Unfortunately it looks like the main non-profit group featured in the film, Porter's Progress, recently had to stop doing its work.