I was perusing my messages on The Facebook yesterday when I saw a notification from my "friend" Urban Climber Magazine that their website had been redesigned.  I'm into websites and redesigns so I eagerly clicked through…and quickly did a double take.  After a quick check of Climbing Magazine's website I confirmed that my first impression was correct:  Urban Climbers redesign was simply Climbing's site with a different stylesheet!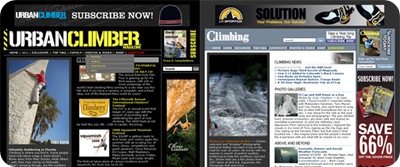 While not surprising considering both magazines are owned by the same company, I would have thought having two websites that were basically identical would be a bit lame. Overall I have never been that psyched on the design of Climbing's site so maybe that has jaded my opinion.  Climbing.com has a lot of killer content, but I always found the site a bit hard to navigate.  I mean, why should I have to re-load a whole new bloated page for each picture I want to browse in their galleries.  This is 2008, there are many ways to do it up better.  Add in the ubiquitous subscription boxes that never seem to display properly at the bottom of all the posts and it is enough to drive you crazy.
Sour grapes you might ask?  Bummed that the ole Climbing Narc can't get any run with any of the major publications?  Maybe…but I don't think I am alone in thinking ALL the major climbing magazines need to step their online games up.  Agree or disagree?
[poll=75]