Based on the high level of interest in the list of potential V14 and harder boulder problems in North America, I thought it would be a good idea to try and assemble a similar list of Routes. To illustrate a certain point, I will limit the list to routes proposed 5.14d-ish or harder. Being that I am not as up to speed on the hard routes out there I would appreciate any help and/or corrections anyone might have. Also, thanks to Peter Beal for his post on this subject that re-motivated me to visit this topic. Alright, here we go (all grades approximate):
Tommy Caldwell on Flex Luthor, a possible 5.15a at Colorado's Fortress of Solitude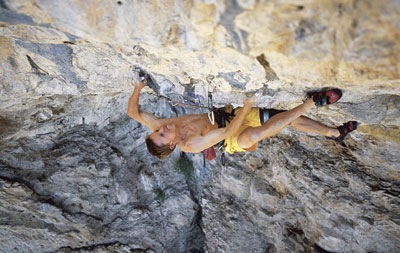 Photo: Tim Kemple
Jumbo Love 5.15b- Chris Sharma – Clark Mt., CA
Jaws II 5.15a – Vasya Vorotnikov – Rumney, NH
Dreamcatcher 5.14d – Chris Sharma – Squamish, BC
Forever Expired 5.14d – Sonnie Trotter – Lion's Head, Ontario
Ghetto Booty 5.14c/d – Francois Legrand – Mt. Charleston
Bachelor's Party 5.14d – Francois Legrand – Mt. Potasi
The China Glide 5.14d – Peter Kamitses – Rumney, NH
I can't tell you how psyched I was to find this footage of Dave Graham climbing Psychedelic courtesy of Korea's version of Youtube – Actually courtesy of either Smackmag or climbXmedia from what I remember. They had an awesome 3 pack of Graham climbing this route, Necessary Evil and Breakin' The Law if my memory serves me right (it has been 7 years).
Click here if the video isn't working
Here is what I could find for 5.14d or harder routes that have been repeated:
| | | | |
| --- | --- | --- | --- |
| Problem | Grade | Location | Ascents – FA listed first and then in no particular order |
| Kryptonite | 5.14c/d | Fortress of Solitude, CO | Caldwell, Stack, Hirayama*, Graham |
| The Fly | 5.14d | Rumney, NH | Graham, Parady, Sharma, Lamiche, Kehl (no rope), Jorgeson (no rope), Robinson, Woods |
| Golden Direct | 5.14d | The Cathedral, UT | Kinder, Sharma |
| Psychedelic | 5.14d | Gorilla Cliffs, UT | Graham, Robinson |
Noticing a pattern here?? When you consider these two incredibly short lists and compare them with the incredible number of hard routes being established and repeated in Europe it raises a lot of questions. Are sport climbers in Europe that much better? Is there that much more quality rock in Europe that lends itself to hard routes? Are the crags in Europe that have hard routes just more accessible than cliffs like The Fortress or Clark Mt. in the U.S.? Is the fact that most strong U.S. climbers prefer to boulder a sign of laziness…or something else? What does everyone think?