Earlier this week I announced the 2008 Bracket Challenge where one of the prizes is the Momentum Video Magazine Volume 2 on DVD. Here is a bit more information on what this DVD has to offer.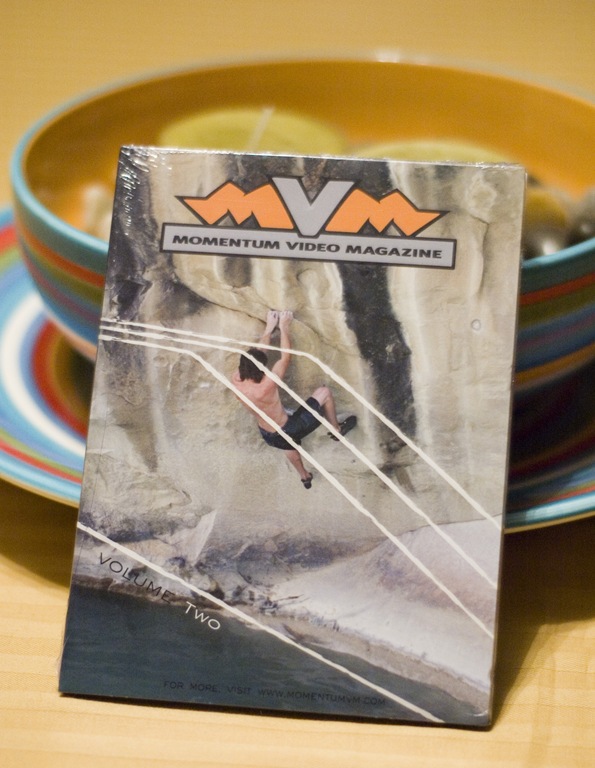 As I have outlined many times before, the Momentum Video Magazine is a very unique project. The idea of paying to watch climbing videos online is not one that has ever been attempted before. However, for those that aren't inclined to do so, paying to watch the videos online is not the only option. For those that would rather enjoy the footage on their much larger TV screens, MVM has been releasing DVDs on a quarterly basis featuring a quarter's worth of clips.
Having seen all the videos online already, I wasn't sure what to expect when I popped in MVM Vol. 2 earlier this week. It is advertised as featuring Issues 4 through 6 of the online video magazine, but I had no recollection of what that all entailed. I took a moment to admire the really fancy menus that are on the DVD and then set it to "Play All". As I watched clip after clip come across my screen, I couldn't help but notice that there is a ton of climbing featured. Most climbing videos these days are around 1 hour long while MVM Vol. 2 clocked in at around 2 hours (Due to the way the DVD worked it was a bit hard to tell exactly). Some of the highlights for me were Dave Graham doing several FAs at RMNP back in 2000/1 as well as the Mt. Evans footage. For a detailed list of all the climbing shown keep reading.
Overall the DVD left me with a good impression. There were certain clips that I didn't really care for, and it was easy to skip along to the next one. I did notice that a couple of the clips didn't seem to fit on my TV screen which was weird, but it didn't affect the viewing experience all that much. Also, the nature of the MVM project whereby the footage is shot by many different people and then compiled by MVM can cause the quality of the footage from clip to clip to be uneven at times. In general though the footage quality is really quite good and any problems were few and far between.
Priced at $24.95 with no shipping and handling charges, Momentum Video Magazine Volume 2 offers an affordable alternative to the online subscription for those that feel more comfortable watching videos on their TV (or would like a more permanent version). You can learn more about how to get this DVD at MVM's site.
A summary of the clips featured in the Momentum Video Magazine Volume 2 DVD
Paul Robinson flashing Jitterbug Perfume (V11) and Prince of Thieves (V12); Daniel Woods flashing Jitterbug Perfume all in Joe's Valley, UT
Bernd Zangerl bouldering somewhere in Europe
Rob D'Anastasio climbing Black Lung (V12/13) and Angie Payne climbing Resident Evil (V10)
Two videos featuring Ben Scott climbing highballs like The Nothing (V8) at Mt. Evans, CO
Two videos from the film Unreal on the bouldering in the Caribbean
Footage from the outdoor bouldering comp held during the 2007 Summer Outdoor Retailers Trade Show
Ty Landman making the 2nd ascent of Jade (V15) in RMNP, CO – Also the 2nd ascent of Wildcat (V12)
Matt Birch climbing Somewhere in Time (V13) at the Tramway, CA
Jon Cardwell climbing Andy Raether's Kuru (5.14c) in Rifle, CO
Footage from Spain featuring Dave Graham climbing Escalatamasters (5.14d) and Colette McInerney climbing a 5.12c
Ty Landman climbing Ode to the Modern Man (V14) for its 2nd ascent
Bernd Zangerl & Fred Nicole climbing Black Shadow (V13) at the Rocklands, South Africa
Ally Dorey bouldering on the Millenium Boulder
Andy Raether making the 2nd ascent of Tommy Caldwell's Grand Ole Opry (5.14c?)
Daniel Woods making an iceless repeat of Wrinkle in Time (V11) at Joe's Valley, UT
Footage from the Big Up vault of Dave Graham climbing in RMNP in 2000/1 – Features an ascent of Automator (V13) and discussion of the project that would later become Jade
Paul Robinson doing the FA of Blackout (V12) at Joe's Valley, UT
Arkansas bouldering featuring Jason Kehl and Matt Wilder on sick highballs
A trailer for the film Sectors
Southern sloper footage featuring Kate McGinnis climbing The Orb (V8) at Rocktown, Jason Kehl climbing Stingray (V9) at HP40 and the FA of Dragon Man (V9) at LRC by Matt Bosley.
Emily Harrington climbing Gropius (5.13d) at Rifle, CO