If you spend any time reading the scorecard comments of top climbers, you have no doubt noticed Paul Robinson and Daniel Woods opining about the "rastaman vibration sit!!!!" which is an unclimbed project in Bishop, CA. I for one had never even heard of the stand start of the problem, but based on what Paul had to say in the latest issue of Climbing the sit sounds pretty hard:


It has a pinch-a little lip for four fingers with a terrible thumb catch-you get it way above your head and bring it down to your hip

You can see a few pictures of Matt Birch trying the Rasta Man Vibration sit on Wade David's site. They are pictures 11 & 12 in the Bishop gallery. Matt had better hurry up if he wants to get the FA, Paul is on the way.

Speaking of Paul Robinson, he recently did the 5th ascent of Ty Landman's Midnight Express (V14) in Boulder Canyon. Here are videos of Ty Landman and Dave Graham climbing the problem.
Paul Robinson topping out Midnight Express (V14)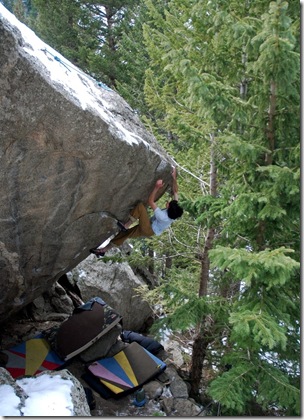 Photo: Andy Mann
Tommy Caldwell trying Tim Clifford's Park Life (V12) – Literally on one of the busiest trails in all of Yosemite NP hence the nighttime stealth tactics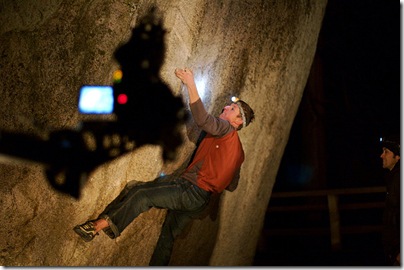 Photo: Big Up Blog
Ty Landman has added a few move traverse into his problem Freak Brothers II (V10) in Boulder Canyon to yield a new line called Freak Accident (V12). You can see video of it right now at MVM. There is also nice footage of Dave Graham in the premium section featuring his ascent of Existence Mundane (5.14b/c) at Acephale.
Joe Kinder just sent a project he had been working on at the Cathedral. It links the crux of Andy Raether's Slaugtherhouse 5 (5.14b) with the crux of Todd Perkins's Treebeard (5.13c). He felt it might be as hard as 5.14c but has decided to go with 5.14b for now.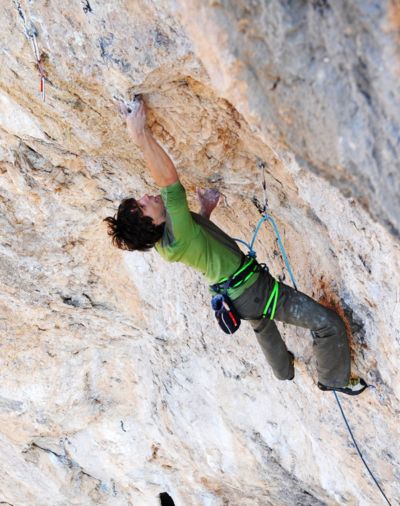 Photo: Keith Ladzinski
Speaking of Andy Raether, Chris Hirsch has made the 2nd (?) ascent of Andy's route Cain at Willow River, WI. Andy originally gave it a grade of 5.14c while Chris has registered it as 5.14b.
If you haven't already read this post by Sock Hands on how he prepares for his big sends…what are you waiting for?!? It's a must read!
Check out this funny video Petzl has put together to promote their new harnesses:
[youtube=http://www.youtube.com/watch?v=ZSdgnuc7zCk]
Thanks to SplitterChoss for the link
Famed alpinist Steve House has a great post on the alpine rock climbing in Argentina on Patagonia's The Cleanest Line blog. It looks like there is some really accessible alpine multi-pitch climbing to be had there. Hopefully this has gotten him in the right frame of mind for his upcoming attempt to make the first ascent of the West Face of our planet's fifth highest peak, Makalu. Now that is going to be sick.

Steve House climbing in Argentina

Photo: Steve House/Cleanest Line

In hard grit news, 17 year-old Pete Whittaker did the FA of a cool (insane) looking route that he has called Dynamics of Change (E9 7a). Hit the link for a lot more cool pictures and a great write-up on the ascent.

Whittaker exiting the crux sequence – The route continues up and left with the pieces pictured being his last pieces of pro

Photo: Hot Aches Blog

The Patagonia store in Boulder is now open… – You can go and meet Kelly Cordes, Eric Decaria, Lynn Hill, Timmy O'Neill and Mark Wilford there on April 5th.

I would like to wish the speediest of recoveries to Tim Kettering who took a nasty spill off of Jedi Mind Tricks in Bishop. It looks like he will be joining the Boot of Doom club in short order.