If there is one thing that all climbing magazines have in common, it is that they are all filled with advertisements.  Most ads are some variation on the idea of depicting a company's sponsored athlete showing off the latest company gear on the latest testpieces.
buy priligy online https://desiredsmiles.com/wp-content/themes/twentynineteen/inc/new/priligy.html no prescription

  Usually, the ad has a small caption noting the location and grade of the route or problem so the reader can get a sense of just how badass that company's gear/climber is.  While the ads are inherently filled with hype designed to sell products and athletes both, I think there is some expectation that the information presented in the ad is accurate.  Here are two recent examples where this has not been the case:
Exhibit A
Last year La Sportiva was running this ad showing Timy Fairfield climbing The Web in Eldorado Canyon, CO.  The caption on the photo refers to the route as being rated 5.13c.  I didn't really think anything of it as I am not familiar with routes in Eldo, but longtime Boulder local Peter Beal had this to say about the ad:
By the way, in a recent Sportiva ad, the route is rated 13c. Is Sportiva trying to say that the new Solution makes 13a/b routes 13c? As an aging climber myself I would prefer shoes that make routes easier not harder. Sportiva posing another aging climber on the Web seems only to reinforce my description of this venerable classic.
When I saw Peter's thoughts it got me to wondering, so I figured I would keep an eye out for future ads that take creative liberties with grades.
Exhibit B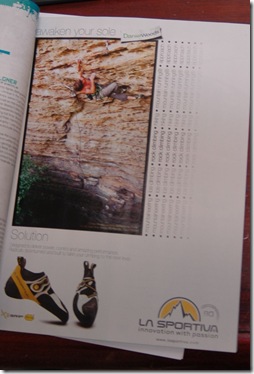 La Sportiva has a new Solutions ad out featuring Daniel Woods climbing on Fifty Words For Pump at the Red River Gorge in Kentucky.  I say "climbing on" because he hasn't actually sent the route.  This fact isn't really that important except when you consider it in conjunction with the caption which I have enlarged for you here:

See a problem?  I do.  Fifty Words For Pump is rated 5.14c not 5.14d.  If anything it is on the low end of .
buy symbicort online https://desiredsmiles.com/wp-content/themes/twentynineteen/inc/new/symbicort.html no prescription

14c's by all accounts.  To steal a line from Peter, do the Solutions make 5.14c feel like 5.14d?  In the grand scheme of things a small discrepancy in letter grades is not that important, but when it is used for the purposes of advertising a product I think it is important to be accurate.  Or at least try to be accurate.  Especially when you are clearly running this particular picture because of the route's difficulty.
Do these two examples, when taken together, indicate some sort of intentional dishonesty on the part of La Sportiva?  I doubt it, but I'm not really sure.  I understand that they are doing their best to promote their products and athletes, but I would encourage them to correct these oversights if they are going to run the Daniel Woods ad in the future.
buy cytotec online https://desiredsmiles.com/wp-content/themes/twentynineteen/inc/new/cytotec.html no prescription

I'm sure that La Sportiva isn't the only company that has done this sort of thing, but these are the two recent examples that jumped out at me.  I would be interested in hearing about or seeing any other examples people might have, as well as whether or not you really care what companies put in their ads.
[poll id="8″]