The opportunity to investigate new and relatively unknown climbing areas is always exciting, especially when the climbing close to home is anything but world-class. "Spray", produced and directed by Brian Solano, follows Chris Lindner, Joe Kinder, Luke Parady, Colette McInerney and Vanessa Compton as they explore northern California's low-key climbing scene.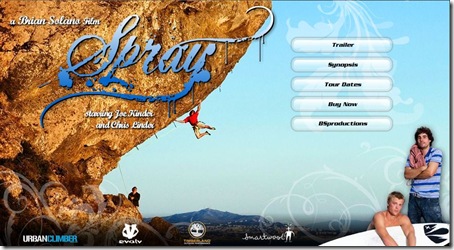 The DVD showcases a number of climbing areas, including Arcata, Trinity Aretes, Donner Summit and Mickey's Beach. Each has its unique features and Lindner and Kinder do well to point them out. The first half of the movie focuses on different beach bouldering areas as Solano, through several interviews, fleshes out the climbers' motivations and inspirations when climbing near the coast. With a title like "Spray", however, more bouldering, like that from the extras, would have been nice to see.
buy albuterol online http://www.artforhealingfoundation.org/wp-content/themes/twentyfifteen/inc/php/albuterol.html no prescription

Several times it appeared as though Lindner, Kinder and the rest of their crew were struggling to find something interesting to say during the interviews.
The movie really hits its stride near the halfway point when the crew arrives at Mickey's Beach so that Kinder can check out Surf Safari (5.13d/.14a). Here is where "Spray" really shines as Kinder talks about what motivated him to improve; he discusses being a kid himself and seeing another kid, Chris Sharma, at age 14 climbing Surf Safari. Combined with the explanation of his motivations for climbing the route Steep Climb Named Desire (5.14a) at Donner Summit, Kinder rises out of his usual semi-coherent rantings and really delves into the heart of what motivates someone that climbs full time.
Throughout the movie, Lindner does the best job of articulating what it is that drives him, and he actually left us wanting to know even more. Specifically, when he describes how he stopped trad climbing and focused on sport routes after his father broke his back from a bad trad fall it seemed to just scratch the surface of what really motivates him.
buy cymbalta online http://www.artforhealingfoundation.org/wp-content/themes/twentyfifteen/inc/php/cymbalta.html no prescription

Despite this, his motivation for searching out new rock is evident throughout the movie, and his efforts culminate at the end of the movie with his FA of the incredible beach arete Window of Opportunity (5.13d). The awesome footage of this route alone could justify the purchase of the DVD. If nothing else, it certainly does a nice job of encapsulating the entire concept of "Spray" in one climactic scene.
buy nolvadex online http://www.artforhealingfoundation.org/wp-content/themes/twentyfifteen/inc/php/nolvadex.html no prescription

Chris Lindner on the FA of Window of Opportunity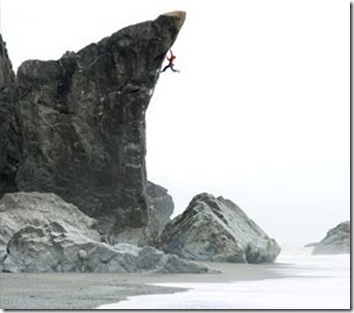 Photo: Brian Solano
To summarize: if you're a person who enjoys watching climber after climber send a high volume of big number climbs, "Spray" is probably not for you. Instead, it is a DVD intent on expressing the importance of experiencing the environment as much as the climbing. Check out "Spray" if you plan to visit northern California, have an interest in the endeavors of Lindner and Kinder or are up for a laid-back DVD with quality climbing footage and don't mind the some of the interviews.
Spray Links