If one thing is clear from our recent discussion on Dabbing, it is that using your knee on a topout does not count for a dab. Poor style? No doubt. Cheating? I guess not. The number of top level climbers using their knees during the Adult ABS Nationals finals was astounding and at times rather humorous. I'm not sure if I am remembering correctly but I thought I saw Grady Bagwell run up the top of the Hueco boulder on his knees on purpose during Youth Qualis as well.
After 72 votes, a majority of you seemed to hedge your ethics when it comes to dabbing. Only 33% said that they would immediately come down to correct a dab, while 59% would decide what to do either after sending or after deciding how severe the dab was.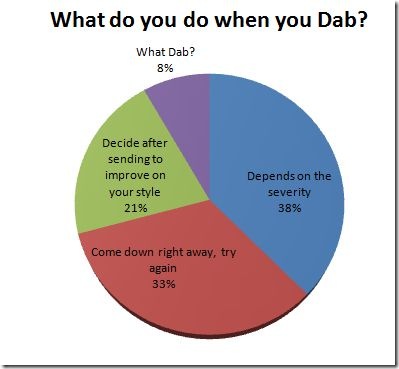 More below the fold…
There were some very good and very interesting comments left on this subject. Here is a summary of some of the best:
Here we have tbwilsonky negating all sends under 7,000 ft. above sea level due to the atmospheric density of lower altitudes:
tbwilsonky on 12 February, 2008 at 9:09 am
Great post. I think we would all agree that dabbing is a central component of modern bouldering. For starters, on problems like HP40's Inspect Her Gadget, dab potential ensures that our mutant fingered friends with no core development will have to watch someone else send. Similarly, dabs also allow us a passive-aggressive outlet to crush weary friends in mid-celebration: "dude, save the celebration for when you REALLY send". But dabbing isn't all about inflating and deflating egos, it also forces climbers to hone their sense of ground/rock proximity: a key component of walking. Finally, and most importantly, dabs are what truly define the ethics of a boulderer. Personally I don't count any send under 7,000 feet because I consider the atmospheric density of low altitude problems a "full body dab". While I recognize this is a bit strict, I also believe it exemplifies a divine no-dab ethos. Because at the end of the day we all have to look ourselves in the mirror and come to grips with our dabbiness. And who amongst us really wants to be a "tree dabs count" person?
Fancyketchup had some observations about dabs by big name climbers in climbing videos
fancyketchup on 12 February, 2008 at 6:30 pm
If kneebars are legit on a boulder problem, and wearing a sticky-rubber kneepad is acceptable (really though, leave the kneepad at Rifle and do some real rock grappeling)) why would using your knee anywhere else on a climb not be? Insanity! Bottom line is, if you are satisfied with the style in which you sent, what does it matter?

Interesting observation: in Best of the West someone is calld out for dabbing on glas roof, after which Tim Kemple explains that the dab is cheating. Elsewhere in the film Sharm clearly dabs on the first move of Full Monty and no one says a word. Is there a conspiracy here? At what grade does one need to climb to be above the dab callout?
Jamie Emerson stirs the pot by calling out an unknown high profile climber for dabbing on an unkown high profile boulder:
JE on 13 February, 2008 at 9:59 am
I know of an interesting situation where a strong climber "sent" a well known hard problem with a dab. Other climbers called him out that day, and he tried to repeat it, twice, both times failing to do the problems with out a dab. Then he left and ran home to put it one his scorecard.
As I often say, there is only one rule in rock climbing, "the ground is OFF"
Some speculation on who this unknown person might be:
drX on 13 February, 2008 at 1:42 pm
JE – paul on Echale? dab fo sho
And finally, Ryan Olson summarizes what I think is probably the best attitude to have when it comes to dabbing (i.e. – just be honest and straight about what you have done!):
Ryan on 13 February, 2008 at 7:02 pm
The longer I climb, the more I become a fan of the "Lee Payne" mentality. Basically, it says do what you want to do and be honest about it. If you don't like where a problem starts, start different, but be honest about where you started. A similar mentality goes for dabs and drop offs.

I think it is different if you are at the top of the sport and are receiving money based on your achievements. Perhaps it is also different if you have a scorecard.

There are three problems on my scorecard on which I have dabbed. Two of the comments directly say dab and the third says something about poor form.

I do not feel bad at all about having those problems on my scorecard, but I can see how others would think that I haven't done the problems.