As I reported last week, Dave Graham has returned to Arkansas after tearing the place up over the New Year. Big Up is there to capture everything on film for us (Dosage 5 soon???) as Dave and his crew of Jason Kehl, Ty Landman, Jon Cardwell and Chad Greedy explore all the untapped sandstone around the Horseshoe Canyon Ranch. Check out the most recent post on the Big Up blog for some photos of what they've been up to.
Dave Graham on Release the Squirrels (V12) in Arkansas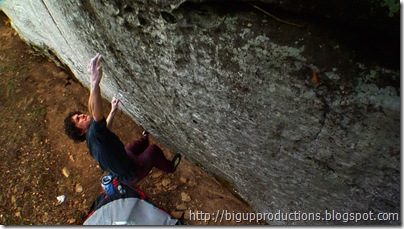 Photo: Big Up Blog
No word on the effect of the "worlds mage wind" on the rest of the crew…
Update 2/29/08 – Another update from Big Up – Dave Graham recently added a 1 move wonder V14 he is calling Lost in the Hood. He also updated his 8a spraysheet: 2 V14s, 3 V13s and 2 V12s added to the woods of Arkansas in the past few weeks.
Photo: Big Up Blog